US welcome to join Belt and Road Initiative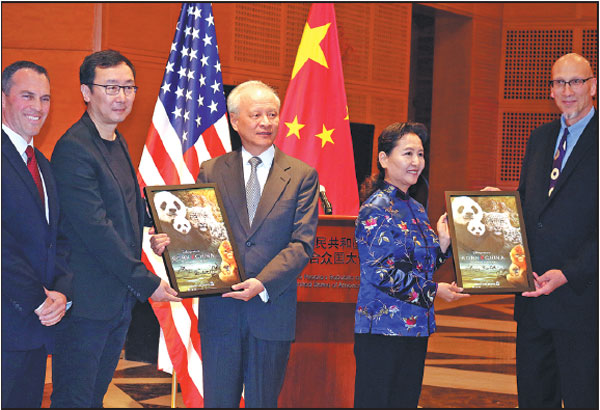 Cui Tiankai, ambassador to the US (center), Walt Disney Studios Vice-President Paul Baribault (left) and Chinese documentary director Lu Chuan (second from the left) display a poster for Born in China, a Chinese-American coproduction that takes viewers on an epic journey into the wilds of the country. The film was released in the United States over the weekend.Zhao Huanxin / China Daily
At a forum held in New York on Monday, China's Ambassador to the United States Cui Tiankai invited Washington to join the Beijing-proposed Belt and Road Initiative.
In his words, the initiative, aimed at building infrastructure connectivity, and thus boosting free trade and people-to-people exchanges across Asia, Africa and Europe, is not China's "solo show". Rather, it will be a "symphony" performed by all participating countries, the US included if it chooses to join.
The initiative offers a platform for countries to join hands to cultivate fresh impetus for global growth and explore a more sustainable development path together.
However, the US has been suspicious of the initiative, if not openly antagonistic toward it, since President Xi Jinping first proposed reinvigorating the ancient Silk Road trade routes in 2013, with some in the US claiming it is an attempt by China to challenge the US' global leadership. That is why Washington has refused to join the China-led Asian Infrastructure Investment Bank, which has been established to finance Belt and Road projects.
But such concerns stem from an outdated Cold War view of the world, which tends to pit great powers against each other in a zero-sum game, rather than recognize the plentiful opportunities that exist for win-win cooperation.
The initiative embraces the principles of wide consultation, joint construction and shared benefits, and aims to promote the construction of a fairer global economic governance system. It is open and inclusive, and complements, rather than replaces, the existing international governance mechanisms orchestrated by the US. There is really nothing for the US to take exception to.
Indeed, it has nothing to lose by joining the initiative. Instead, by joining it, the US will be able to secure investment to improve its own outdated infrastructure and reap the benefits of the huge business opportunities that the initiative promises to create.
Meantime, the world faces tremendous challenges such as poverty, terrorism and energy security that cannot be adequately addressed without a China-US partnership that ensures better functioning of the existing international order. The US' participation in the Belt and Road Initiative would enable China and the US to work more closely together to better fulfill their international responsibilities.
Despite their differences, the two countries have already built a resilient relationship featuring extensive cooperation in many areas. If reason prevails, the US should realize that it would be in its own interest to be part of the network of global partnerships that are being formed by the Belt and Road Initiative.