Easing China's FX outflows restrictions? Not so fast
Reports that restrictions are easing on banks' cross border RMB payments has led some to conclude that policymakers feel they have been successful in containing financial outflows and may soon relax foreign exchange (FX) restrictions more broadly.
We think that is premature. The turn-around in financial outflows in the first quarter was less than half of what is needed to achieve a sustainable stabilization of FX reserves and we do not expect a broader relaxation in the near future.
The South China Morning Post on Thursday reported that a restriction on banks' cross-border RMB payments, originally imposed in January, has been relaxed. The restriction forced banks to balance their outbound yuan payments with inbound flows each month.
This move led some observers to conclude that the authorities' campaign to clamp down on financial outflows to stabilize the level of FX reserves has been successful and may soon be phased out. Such observers also take heart from the data for the FX market in the first quarter. These show that FX reserves virtually stabilized in the first quarter, with modest gains in February and March (Table).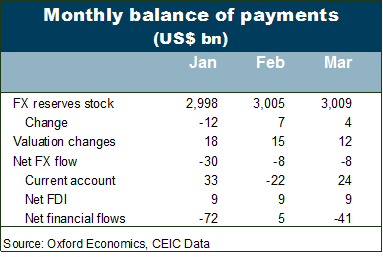 However, in our opinion, it seems premature to say that the authorities' objectives have been met and to expect an easing of the measures to clamp down on outflows. The global retreat of the US dollar played a major role in the first quarter. It reduced the pressure on China's FX market. Indeed, the People's Bank of China allowed it to rise 0.9 percent against the US dollar. Moreover, the weakening of the US dollar meant that FX reserves denominated in currencies other than the US dollar rose in value, leading to valuation changes of 45 billion US dollars in the first quarter. Adjusted for these valuation changes FX reserves still declined by 47 billion US dollars in the first quarter.
Net financial outflows came down from an average 148 billion US dollars per quarter in 2016 (and 195 billion US dollars in the fourth quarter) to an estimated 108 billion US dollars in the first quarter. While this is a significant turn-around, it is less than half of what is needed to achieve a sustained stabilization of FX reserves. Moreover, we expect the Chinese renminbi to come under pressure again at some point, notably at times of another global strengthening of the US dollar.
Therefore, we do not think that the reported easing of banks' cross-border RMB payments heralds a broader relaxation of the authorities' efforts to reduce financial outflows. Indeed, we still do not rule out further tightening if the pressures on the FX market were to rise substantially again.
The author is the Hong Kong-based head of Asia economics for Oxford Economics.