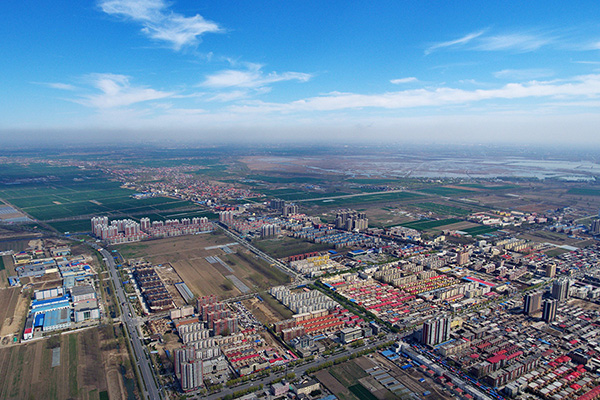 Aerial photo taken on April 1, 2017 shows Anxin county, North China's Hebei province.[Photo/Xinhua]
About four decades ago, Shenzhen was a small fishing town with about 30,000 residents immediately north of Hong Kong. Today, it has grown into a high-tech economic powerhouse, covering about 2,000 square kilometers with about 11 million people-which is roughly the population of Belgium-China's answer to Silicon Valley in the United States.
In the 1990s, just more than a decade after the Shenzhen Special Economic Zone was established, China decided to build another economic zone, the Pudong New Area, in Shanghai. The area covers about 1,200 sq km and the number of people living there equals that of Finland, that is, 5.5 million.
Shenzhen and Pudong are just two examples of China's determination to transform and integrate itself into the world by channeling global resources. Shenzhen, for example, has attracted talents from around the world through its representative offices abroad, particularly European countries.
Shortly before President Xi Jinping's visit to Finland and his meeting with US President Donald Trump last week, China announced that another high-tech but environmentally friendly hub, Xiongan New Area, will be built in the Beijing-Tianjin-Hebei region.
China's leadership has shown great determination and vision in explaining the significance of the project, which will eventually cover about 2,000 sq km. While solving many of Beijing's urbanization problems, the new area will also help integrate Beijing, Tianjin and Hebei province, and create a new sustainable economic pole in North China.
The project is among several far-reaching ones undertaken by China since Xi became the country's top leader in 2012. The ideas of the Belt and Road Initiative (Silk Road Economic Belt and the 21st Century Maritime Silk Road), Asian Infrastructure Investment Bank, Silk Road Fund are all examples of China deepening its reform and opening-up.
Although Xiongan New Area is high on China's domestic agenda, it could offer excellent opportunities to foreign-especially European-investors, businesses and talents worldwide, as well. Foreign investors and businesses have already harvested the fruits of their engagement with Shenzhen and Pudong. Now that China plans to turn another area into an economic powerhouse, global investors should weigh its potential as early as possible.
Compared with previous years, foreign investors are now on par with their Chinese counterparts because preferential policies have been phased out. However, for a still-growing economy with a population five times more than that of the United States and three times that of Europe, China's potential market defies imagination. Building Xiongan New Area is one example of releasing that potential.
With China already entering a rapid-growth stage in some leading sectors, the goals of the new area will be extremely high-certainly higher than Shenzhen and Pudong-even though the project is still on paper. Potential partners from the rest of the world, especially those from Western Europe and the United States, have gathered rich experience in developing economies while expanding cities. So they should be very interested in Xiongan, as it is about sustainable urbanization.
Foreign urban planning experts and consultants, for example, can invest in Xiongan even at the blueprint stage by contributing novel ideas. Similar to those early-bird investors in Shenzhen and Pudong, new businesses, especially in urban and architectural designs and infrastructure construction sectors, are free to move in.
At the same time, for those new investors, and even startups in the high-tech and services sectors which plan to invest in China, there is the option of initiating startups, just like in Shenzhen and Pudong. Land and other resources will be cheaper now, though it is a challenge to start business in a remote area.
Opportunities, however, are there for those who have the vision and courage at the outset. And looking at how many foreigners are living and working in Shenzhen and Pudong today, it will be even clearer what the opportunities offered by Xiongan New Area can mean.
The author is deputy chief of China Daily European Bureau.
fujing@chinadaily.com.cn