State-owned China Shipping pioneers move to Xiongan New Area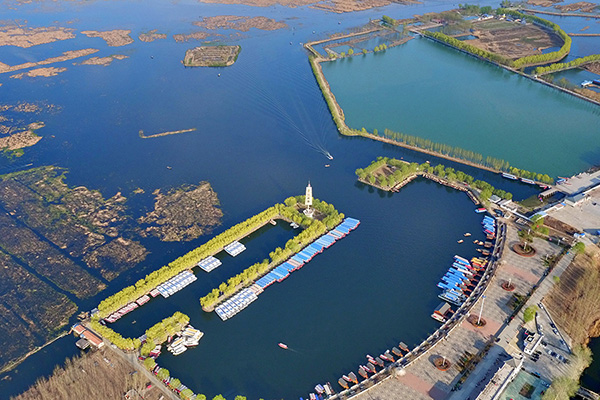 Aerial photo taken on March 31, 2017 shows Baiyangdian, North China's largest freshwater wetland, in Anxin county, North China's Hebei province. [Photo/Xinhua]
China Shipping Industry Corporation, the country's leading shipbuilder, announced on its WeChat account late Thursday and on its official website on Friday that the conglomerate has injected assets of seven power-related sectors into its listed company, Fengfan Co Ltd, which is registered in Baoding city, Hebei province.
Hu Wenming, chairman of China Shipping, a Fortune 500 company with assets of 412.7 billion yuan($59.81 billion) and 150,000 employees, said the company, has made the move to show its determination to implement the central government's plan on building the Xiongan New Area, which consists of Qiongxian, Anxin and Rongcheng counties in Baoding city. He added that the company would like to be a pioneer among central State-owned enterprises expected to support Xiongan.
The company said after the reshuffle, China Shipping would make its roots deeper in Baoding. Shanghai-listed Fengfan, whose predecessor was a battery maker established in 1958 and now a supplier to dozens of automakers including Beijing Hyundai, announced the preliminary plan of this reshuffle on August 31, 2015. These seven power-related sectors included companies located in cities such as Shanghai, Qingdao and Zibo in Shandong province, Yichang in Hubei province and also Beijing.
Shares of Fengfan rose by 4.7 percent to 34.94 yuan by midday Friday.
China Shipping said it also plans to relocate the headquarters of its subsidiary Beijing Great Wall Electronic Equipment Co Ltd to a marine equipment industrial park in Hebei province. The company is now located within the Second Ring Road of Beijing and covers an area of 36,000 square meters and has 600 employees.