Positive and fruitful talks lay foundations for future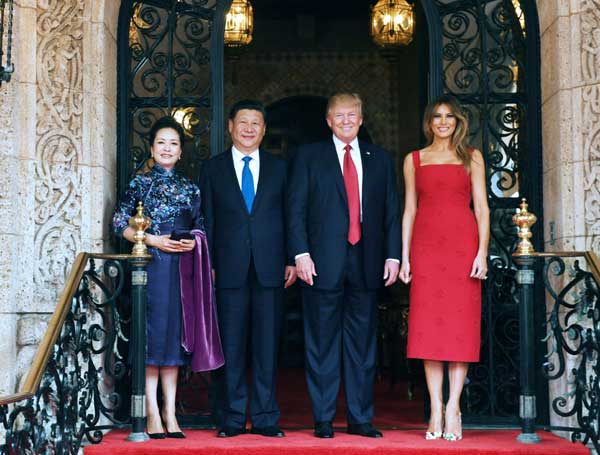 US President Donald Trump and First Lady Melania Trump welcome President Xi Jinping and First Lady Peng Liyuan at Mar-a-Lago estate in Palm Beach, Florida, US, April 6, 2017.
The just concluded meeting between President Xi Jinping and his US counterpart Donald Trump struck a strong and welcome note of certainty in the relations between China and the US.
During their talks at Mar-a-Lago, Florida, on Thursday and Friday, the two leaders agreed to build on what has already been achieved in bilateral cooperation and to continue to push for further development of ties.
As Xi pointed out during his meeting with Trump, cooperation is the only correct choice for China and the United States, and he underlined the importance of the two countries further enhancing the economic, military, and law enforcement cooperation and boosting people-to-people exchanges.
And in this respect the significance of the Xi-Trump meeting goes beyond the two leaders' efforts in building a sound personal working relationship, as the two sides agreed to establish a new comprehensive dialogue mechanism built on the four pillars of a diplomatic and security dialogue, comprehensive economic dialogue, law enforcement and cyber security dialogue, and social and people-to-people dialogue.
As the comprehensive dialogues now cover almost all the important issues on which Beijing and Washington may agree or disagree with each other, this new arrangement will better position the two countries so they can deepen their bilateral cooperation, efficiently tackle issues of mutual concern and properly manage their differences.
During their talks, Xi and Trump also reached important consensus on promoting China-US trade, which is the cornerstone of bilateral ties, agreeing to press ahead with more pragmatic cooperation in fields such as trade, investment, infrastructure and energy to mitigate differences that cannot be bridged for now.
This reflects Xi's call for the two sides to make a larger "cake" for their bilateral cooperation. As two big countries, China and the US naturally have their own priorities in domestic and international issues. But their agendas in some areas, especially in nation building and maintaining world peace and stability, can be converged so that the benefits of bilateral cooperation can be maximized.
For agendas and issues on which they cannot see eye to eye with each other, there is a pressing need for the two countries to maintain smooth communication and better coordinate their stances so as to keep the negative impacts of their differences at minimum.
The meeting between Xi and Trump sent a strong signal that the two countries are seeking to explore meaningful ways to discuss and bridge their differences.