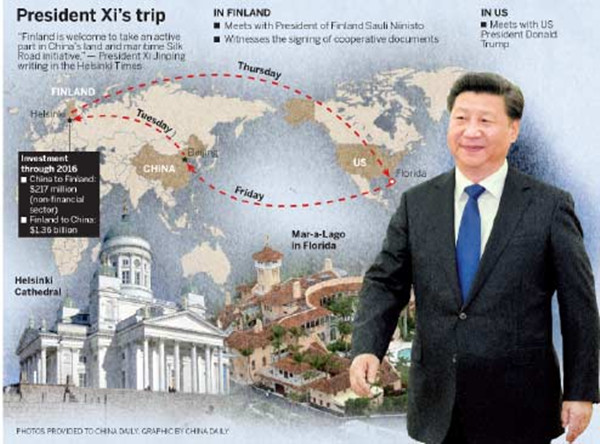 President Xi's trip.
In three months, President Xi Jinping has traveled to Europe twice. Following his trip to Davos to attend the World Economic Forum and a state visit to Switzerland in January, Xi reached Finland on Tuesday before flying to the United States for his first meeting with US President Donald Trump.
Xi has used his overseas trips to deliver messages on how China views the world and the global economy at a time when populism and protectionism seem to be gathering strength. Xi used his Switzerland visit, and will now use his Finland trip to express China's views that all global players, including the European Union and the US, should fulfill their due responsibilities to build a prosperous and peaceful world, instead of telling China what its global duties are. Besides, Switzerland and Finland can also help China strengthen its domestic program for innovation.
Last year, China announced a three-step plan to encourage and improve innovation. First, by 2020, China aims to increase its spending on research and development to 2.5 percent of GDP and ensure its knowledge-intensive service industry accounts for 20 percent of the economy.
Second, by 2030, China aims to raise the budget for research and development to 2.8 percent of the national economy and lift Chinese businesses to the medium-and high-end global supply chain, as well as make the country a global leader in innovation.
And third, by 2050, China aims to become a world leader in science and technology, with its economy mainly driven by innovation. By that time, China aims to make its universities and research institutions world leaders, with science and research becoming the backbone of national strategic resources.
Such innovation goals go hand in hand with China's other economic restructuring efforts such as poverty reduction, tackling the aging population and improving people's livelihoods. Though it has made rapid progress in innovation in recent years, the gap between China and its competitors remains wide. Based on the World Intellectual Property Organization's annual report, China ranked 25th in 2016, moving up nine spots from 2012.
In Switzerland and Finland, China has perfect economic partners; Switzerland occupied the top spot in the World Intellectual Property Organization rankings, with Finland taking the fifth slot. And the two countries are willing to share knowledge and technology with China.
Such openness offers great opportunities for Switzerland and Finland. Even though the two countries' population is less than 10 million each, they can get access to China's market of more than 1.3 billion consumers.
And since innovation has become an integral part of the national policy, even Southwest China's Guizhou province, a relatively poor region, has made Switzerland an example of its efforts to reduce poverty.
Guizhou and Switzerland are both mountainous and landlocked areas, although their economies differ radically. But learning from Switzerland, China is injecting resources in environmental protection, infrastructure construction, tourism and education to remodel Guizhou into the Switzerland of the East. China has a lot to learn from Finland, too, especially in terms of innovation, and scientific and technological research.
The author is deputy chief of China Daily European Bureau. fujing@chinadaily.com.cn