Xi says nation's plan and Finland's vision dovetail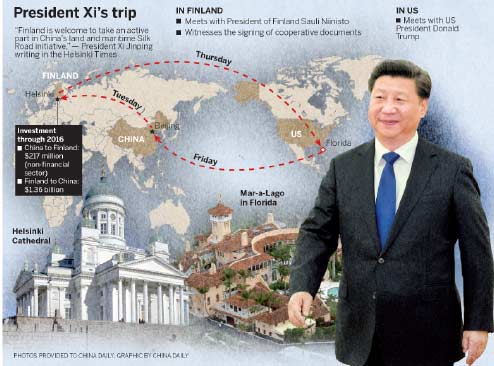 President Xi's trip.


Enhanced cooperation expected in such areas as entrepreneurship, innovation

China and Finland will have more cooperation in areas including innovation, entrepreneurship, clean energy, bio-economy and arctic research, President Xi Jinping said in a signed newspaper article on Monday, ahead of his state visit to the Nordic country.
In the article published by the Helsinki Times, Xi said China and Finland have complementary economies and both sides have benefitted from cooperation.
"China's 13th Five-Year Plan dovetails with Vision: Finland 2025, promising exciting cooperation in such areas as innovation, entrepreneurship, clean energy, bio-economy and arctic research, to name just a few," Xi wrote.
The president will make a state visit to Finland from Tuesday to Thursday at the invitation of Finnish President Sauli Niinisto. It will be Xi's first visit to Northern Europe as China's head of state.
China welcomes Finland to take an active part in the Belt and Road Initiative, Xi said. The Initiative, proposed by Xi in 2013, aims to revive the ancient land and maritime trade routes of the Silk Road.
Xi pointed out that China and Finland are working to build a future-oriented, new-type cooperative partnership, which he said provides tremendous opportunities for expanding bilateral ties.
"China has all along approached our ties from a strategic and long-term perspective and pursued common development on the basis of win-win cooperation, equality and mutual respect," he said.
Noting that this year marks the centenary of Finland's independence, Xi said that due to similar experiences in the two countries' modern history, the Finnish sense of national pride has strong resonance among the Chinese people.
The China-Finland relationship has been able to grow on a solid foundation, setting an example for peaceful coexistence and friendly exchanges between the two countries that are different in size, culture and development level, he added.
Finland was among the first Western countries to establish diplomatic ties with China after 1949 and the first Western nation to sign an intergovernmental trade agreement with China. China has remained Finland's largest trading partner in Asia for the past 14 years.
Noting that it will be his first visit to the Nordic region as Chinese president, Xi said the exchanges and cooperation between China and Nordic countries in various fields are blossoming, which "will be a contributing factor to European prosperity and China-Europe relations".
"China is of the view that European integration is consistent with the trend of history, and a prosperous and stable Europe is conducive to world peace and development," he said.
After the state visit to Finland, Xi will travel to Mar-a-Lago in Florida to meet with US President Donald Trump on Thursday and Friday.
On Sunday, State Councilor Yang Jiechi said in a phone conversation with US Secretary of State Rex Tillerson that the meeting between Xi and Trump will be the most important event in current Sino-US relations.