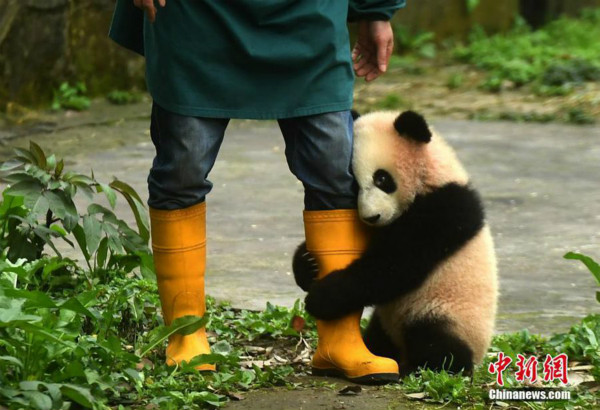 Giant panda cub plays with a zoo keeper at Chongqing Zoo in Chongqing, Southwest China, March 18, 2017. [Photo/chinanews.com]
People in the United States like to petition, about everything, from demanding President Donald Trump to release his tax returns to ending wildlife trafficking.
But a recent one calling to reunite giant panda cub Bei Bei and his mom Mei Xiang at the Smithsonian's National Zoo in Washington sounds a tearjerker.
In the petition, J. J. Medusa accused the zoo of forcibly separating the two giant pandas. It described them as "vocalizing, pacing, not eating and visibly stressed" and "they have been calling to each other and literally climbing walls (and trees) to try to get to one another".
It went on to say that "it breaks our hearts to see these two beautiful creatures apart from each other."
The petition, which started three weeks ago, has gathered some 2,500 signatures and has been spreading on social media.
Living just a block from the National Zoo, I shared the petitioners' feeling having observed the difficult days of weaning of Bei Bei from his mother. However, I understand that is a natural process for giant panda cubs.
Just a day before the National Panda Day on March 16, the zoo released a list of frequently asked questions in response to the many giant panda fans who expressed similar concerns. Pandas are solitary animals, they do not live in groups. Mothers and cubs do not stay together in the wild. If the zoo were to keep them together much beyond the point when a cub is self-sufficient, that would eventually cause aggression.
Bei Bei and Mei Xiang looked quite good in adapting to the new life in their respective yards when I visited them again this week.
The love for giant pandas among Washingtonians, and many Americans, impressed me deeply since I was still based in New York City and travelled to Washington in late 2009 after the zoo announced that giant panda cub Tai Shan was to leave for China.
People, some in a group called Pandamania, and some in wheelchairs, came to say goodbye to Tai Shan, even on snowy days. The Metro card in Washington even carried a giant panda logo.
There is no doubt that giant pandas are China's ambassadors to the US. They are stars at the National Zoo. The web cams there often draw 1 million viewers on a weekend. Bei Bei's name was given by China's First Lady Peng Liyuan and then US first lady Michelle Obama in September 2015 when they both visited the cub at the zoo.
The National Zoo was the first one in the US to house giant pandas after Ling Ling and Hsing Hsing arrived on April 16, 1972, about six weeks after President Richard Nixon's historic trip to China. The welcoming ceremony a few days later was attended by first lady Pat Nixon. The green shipping crate for Ling Ling and Hsing Hsing is still on display in the panda pavilion.
Besides Washington, three other US cities, San Diego, Atlanta and Memphis, also house giant pandas. James Sasser, former US ambassador to China, mentioned to me once how proud he was of helping bring giant pandas to his hometown Memphis.
New York City is probably the next one. In February, local Congresswoman Carolyn Maloney joined former AIG billionaire Hank Greenberg and others in pushing for a campaign to bring pandas to the Big Apple by 2020, to be housed either in the Central Park or the Bronx Zoo.
As I studied the Nixon archives online recently, I came across a conversation between Nixon and his wife Pat about the arrival of the first pair of giant pandas. Having giant pandas in the US was a major step in China-US relations, just like that historic Nixon trip.
The author is deputy editor of China Daily USA. chenweihua@chinadailyusa.com