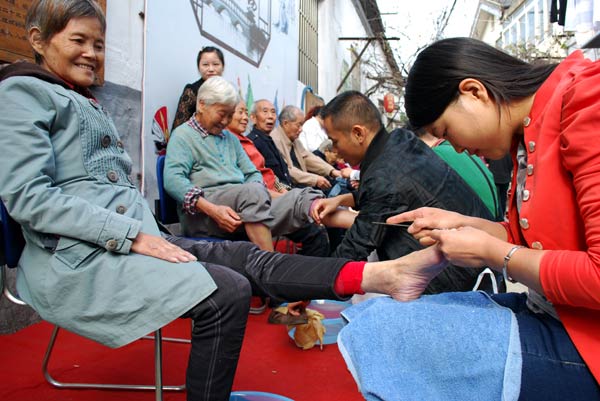 Senior citizens enjoy services outside a foot massage franchise store in Zhenjiang, Jiangsu province. [Photo by Shi Yucheng/China Daily]
I had not expected my masseuse to be so insightful.
"All that matters is a platform that you can use to discover what is best that life has in store for you," she said as she was giving me a 100-minute foot massage in a clean, well-lit room equipped with greenery, an aquarium of goldfish and an air purifier on a smoggy winter night.
"If I work at a small street side store I can charge you only 60 yuan ($8.70) or 70 yuan for the same kind of service," she said. "But here you have to pay 338 yuan."
The platform in her words is the foot massage franchise store, said to be one of the largest in Beijing, on the North Fourth Ring Road. She has been working there for more than two years, now as a trainer and team leader.
Business has been so good that customers who don't make a reservation may have to wait for one hour before being served on a busy evening.
My masseuse earned more than 16,000 yuan last month, enough for her to support her three daughters left behind in her hometown, and save for her first mortgage installment.
Given that the average monthly income of China's college graduates last year was less than 4,800 yuan, according to a survey by recruitment website zhaopin.com, she seems to have every reason to feel pleased as personal income is considered a gauge for life's success.
This has not come easily. She admits she is among the top earners in the store, and I can tell her distinction from her picture on the front page of the store's internal newsletter on the table, with a story about a lecture she recently gave at a university on how to keep fit using traditional Chinese medicine.
Yes, to earn that sum she has to excel in many ways besides having to toil from 11 am or earlier to midnight and beyond, and often with basically no day of rest for a whole month.
For example, she is tasked with selling prepaid cards to clients, a strategy adopted by the store to lock in customers while generating constant cash flow. During its just-concluded 20-day promotion period, more than 8 million yuan worth of cards were sold.
She admits it is not easy to convince the often wary clients to dig deeper into their wallets, which requires tenacity and a high level of emotional quotient.
How did she make it?
Her knowledge about the 80/20 rule comes in handy. "The 20 percent high-net-worth customers buy 80 percent of our cards. It is these elite customers that we keep focusing on."
By the way, "I rely on the 20 percent of my team members who are the best to complete 80 percent of the tasks", she said.
The platform aside, she attributes a successful career and a meaningful life to several other Ps.
They are:
Professional: Keep practising until you become an expert in your field. A massage parlor at a five-star hotel had offered her 20,000 yuan a month to work there, though she was not considering changing jobs at the moment.
Perseverance: Life always has its highs and lows, and sometimes you have to persevere through failures and hardships.
Push: You always need to push yourself a little more because otherwise you will never know the limit of your potential.
Last but not least, pleasure: It always pays to take a break and enjoy life. That's why she makes it a rule to travel abroad once each year, and she plans to visit Japan this summer. Late night drinking after work at a noisy disco bar has always been her favorite.
As I left the store I thanked my masseuse profusely, not only for the good massage I received, but also for a lesson on work and life.
Contact the writer at huangxiangyang@chinadaily.com.cn