Make world great, with global governance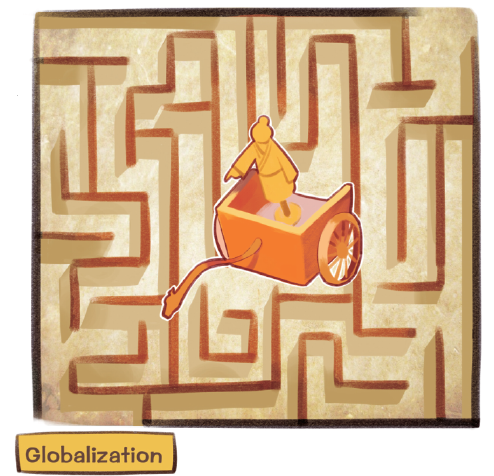 LIU XINYI/CHINA DAILY
The world is in a state of great upheaval and faces uncertainties on an unprecedented scale: The upcoming US administration has noisily announced a break with the past without indicating a clear new direction, the European continent is more divided than ever, strategic trust is at a low point, and breathless national governments are in most cases not even able or willing to discuss broader issues of global concern.
But what is needed is concerted effort to bring the anarchic globalization that exists at present under a new regime of global cooperation.
Undoubtedly, the major powers will bear the biggest responsibility for this, and it will be them which have to come up with workable proposals to tackle the big problems of the world such as poverty eradication, climate change, migration and security so as to make the world a peaceful, prosperous and good place to live for all.
In ancient Chinese political thinking coexistence takes precedence over existence, and the world has to overcome the fragmentation where every nation maximizes only its own narrow interests and instead work together to build what Chinese President Xi Jinping calls "a community of shared future for all humankind".
Making the world great-not again, but for the first time-means building a global community of shared destiny in which the aspirations of peoples for peace and prosperity are met through the joint efforts of all nations, especially the big ones.
This closer international cooperation requires reform of the existing global institutions. The re-composition of the International Monetary Fund's Special Drawing Rights basket of currencies with the inclusion of the Chinese renminbi is certainly a step in this direction. But others are needed in order to revive the somewhat sluggish globalization process. Events of recent months have indicated that this process is not irreversible. It can be damaged by acts of protectionism and isolationist moves.
Thus what is needed at this juncture are renewed efforts to establish mutually beneficial networks of free trade and investments worldwide so as to foster further growth and prosperity.
The planned free trade area of the Asia Pacific is one example, as is the UN 2030 Agenda for Sustainable Development. Another proposal for global institutional reform is replacing the system of using national currencies as reserves with a global reserve currency called paper gold (p-gold), which has been put forward by Justin Yifu Lin, a professor at the National School of Development at Peking University and former chief economist of the World Bank. Lin challenges the present reserve currency regime on the grounds that it creates instability and no longer reflects the composition of the world economy. This new global reserve currency would, he says, "avoid inherent conflicts using national currencies as international reserve currencies". Of course, the introduction of p-gold would require a new international treaty and an international Central Bank.
However, the most ambitious and promising institutional initiative in this context is by far the Belt and Road Initiative. The Silk Road Economic Belt and 21st Century Maritime Silk Road first proposed by Xi in 2013 are arguably the largest and most comprehensive endeavor of their kind ever undertaken by mankind.
Different from the Marshall Plan to rebuild war-torn European States, the Belt and Road Initiative is inclusive and invites all countries to participate. It offers a perspective for growth and prosperity even to remote and neglected areas in Central Asia and Africa. Its purpose and effect is connectivity.
The pursuit of perpetual global peace and prosperity as long-term goal needs to include all cultures, all peoples and all nations, echoing the goal of "compatibility of all peoples" set out in the Book of Political Documents (Shang-shu), one of the oldest books in China.
The author is director of the Boller-Wu Foundation in Switzerland.