Obama leaves behind an ambiguous legacy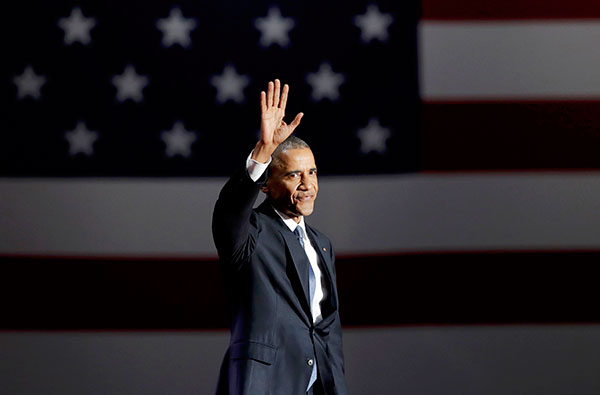 US President Barack Obama acknowledges the crowd as he arrives to deliver his farewell address in Chicago, Illinois, US, January 10, 2017. [Photo/Agencies]
It started here, and it ends here.
The location for President Obama's farewell address was meticulously selected at McCormick Place in Chicago, which is the largest convention center in North America. In 2012, Obama also came to McCormick Place to give a thank-you speech to his supporters after he was re-elected into White House.
Recent presidential farewell addresses were often delivered from the Oval Office without a live audience. Obama, however, has never been a fan of speaking out of his Oval Office during his presidency. Tuesday afternoon, President Obama boarded Air Force One and returned to his adopted hometown of Chicago for delivering his farewell address to Americans. When he returned to Washington D.C. from Chicago, that will be the last time for him to fly on Air Force One.
A US president delivering a farewell address at the end of the presidency is a tradition that goes back to George Washington. As the first US president, Washington used the occasion to disclose that he would not run for a third term and warned Americans to steer clear of entanglements in Europe, where Britain and France were often at war in those years.
Obama chose Chicago to say goodbye because the city is where his political career started. In 2004, Chicago witnessed Obama came to national prominence as a Senator candidate, and later a presidential candidate and a truly elected US president. The wind city, of course, is where Obama first met his wife and they started their family soon after that.
"Hello, Chicago!" were, unsurprisingly, the first words from Obama Tuesday night when he took the stage and faced the audience of 20,000 at McCormick Place. He then turned to defend his imperiled legacy and evoke an optimistic vision of unity, not division.
ABC News reported that Obama enjoyed 55% approval rate this week, a seven years high, while Trump had 51% disapproval rate. Yes, Obama's approval rating has surged rapidly in recent weeks, but his party's candidate, Hillary Clinton, failed the election and the party's future was gloomy. Democrats thus need an optimistic vision from their outgoing president more than any time in the past eight years.
In his speech, Obama seemed having no intention to attack Donald Trump, but warned his fellow Americans, "The work of democracy has always been hard, contentious and sometimes bloody." "For every two steps forward, it often feels we take one step back," he said. "But the long sweep of America has been defined by forward motion, a constant widening of our founding creed to embrace all, and not just some."
Instead, Obama celebrated the inauguration of Trump, "In ten days, the world will witness a hallmark of our democracy: the peaceful transfer of power from one freely-elected president to the next," Obama said. "I committed to President-Elect Trump that my administration would ensure the smoothest possible transition, just as President Bush did for me." When chants of "Four more years" erupted from the crowd, Obama responded with a faint smile on face: "We can't do that."
To many Americans, the 2016 election year was the longest and most virulent presidential campaign in living memory. Some of them are looking forward to speculating about who may be lining up for a White House run in 2020. Such a divisive political landscape has made the last months of Obama's presidency more difficult than what he could possibly envision. His confidence and optimism put to a test in the ways he never expected. After two successful runs for the White House, Obama gets used to his campaigning chant, "Yes, we can." Now he realized so many issues cannot be done after his 8-year presidency.
Given Trump's unpredicted personality and zero governance experience, Obama may find himself more closely tied to US political stage in coming months than he loves to be. But he will have no power to stop others who would compare the 44th and 45th presidents. After Trump's inauguration ceremony, I believe Obama will be bright enough not to comment on every issue that comes up. But when he feels something extraordinarily important is at stake, he will say what he needs to say.
In Chicago, Obama will remain popular just like what he was treated this week by locals. Last Saturday, thousands of supporters began lining up at McCormick Place at 6 a.m. to pick up tickets to the farewell speech, showing how much Obama is beloved in his hometown. No matter how much he is loved by his supporters, Obama's presidential legacy will be undone by his successor, Trump, who likes to repeal as much as what Obama has done.
The results may seem sad to Obama's supporters but the tone of Obama's farewell speech was never pessimistic. His optimistic tone and cadence in the speech may reach for the oratorical heights of his best-known addresses, but no one can predict what kind of legacy Obama leaves behind after he moves out of White House and starts his private life as an ordinary citizen.
The author, Dr. Zhong Bu, Associate Professor from College of Communications, Pennsylvania State University.