Train booking software comes at a high price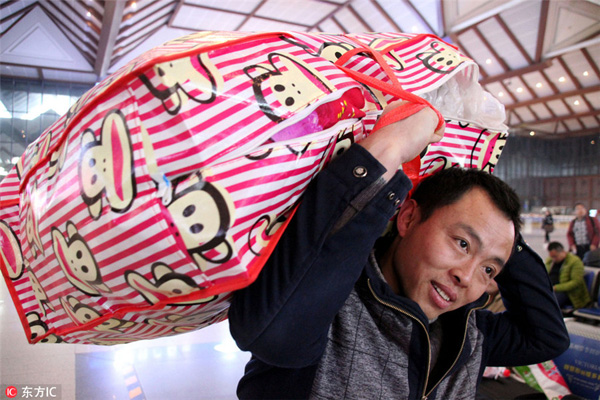 A migrant worker carries a luggage bag in a railway station in Suzhou, Jiangsu province, on Dec 15, 2016. With the festival more than one month away, some migrant workers have packed up their luggage and embarked on the journey back home to avoid the travel rush. [Photo/IC]
Some software for the online booking of train tickets comes bundled with compulsory purchase items. Beijing News comments on Tuesday:
Chinese residents are expected to make more than 3 billion trips during this year's chunyun, the annual travel period that lasts about 40 days from January to February with Spring Festival as the peak. More than 10 percent of those trips will be by train.
Most of the train tickets for this period are booked online from late December to mid January, and the huge demand can sometimes paralyze the online train ticket booking system.
Some information technology companies offer special software that, by automating the online ticket buying process, can increase the chance of snapping up tickets, since the fierce competition means even a one-second delay in clicking may be the difference between getting a ticket or not.
However, many of the software providers also bundle their software with compulsory purchase of insurance or other services that users cannot cancel.
Some of the software providers tell users about these items in the installation instructions. But some intentionally publish these notices in small characters or put it in a corner of the instructions where users are less likely to see them.
The tricky point is, if users do not use the software, it will be much harder for them to secure a ticket, but if they want the software they have no choice but to purchase the bundled items.
Although such software does not break the law, it takes advantage of loopholes in the online train ticket booking system, which is designed for manual operation instead of automated applications.
More importantly, the software users must type in their ID numbers and mobile phone number in the software, as well as their bank account information if they choose to pay through the software, which most people do, yet most software do not clarify its obligation to protect the user's personal information.
In other words, the consumers are paying a high price to buy a ticket through the software.