China leads efforts to realize climate pact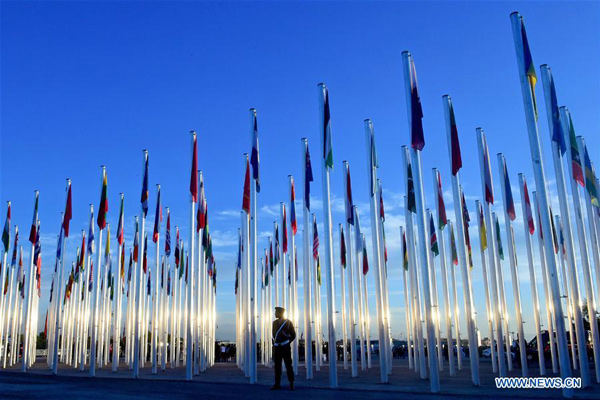 A Moroccan policeman stands guard outside the COP22 village during the 22nd Session of the Conference of the Parties to the United Nations Framework Convention on Climate Change (COP22) in Marrakech, Morocco, on Nov 15, 2016. [Photo/Xinhua]
As Confucius taught us, there are three methods to gaining wisdom. "Reflection, which is the noblest. Imitation, which is in essence perhaps the easiest. Experience, which is the bitterest." The climate agreement, approved by nearly 200 states at the United Nations climate change conference in Paris last year, embodies these three elements precisely.
First, in the run-up to the conference, every country was invited to "reflect" on its contribution to cut greenhouse gas emissions. Also, a five-year cycle of reflection to measure progress was agreed.
Second, countries are learning from and building on each other. Leading countries developing the right policies and leading companies developing new technologies are closely watched and "imitated" by others. These collective efforts must eventually add up to limiting the global average temperature rise to 1.5 C to 2 C, as agreed in Paris.
Third, we are already learning from bitter "experiences" that multiply the risks of poverty, migrations and conflicts. To help those who are most vulnerable to these hardships adapt to climate change, agreements regarding climate finance were also made in Paris.
China is taking a lead in realizing the historic Paris Agreement, which has been now ratified by 119 parties. At the G20 Leaders Summit in Hangzhou, East China's Zhejiang province, Beijing submitted its ratification document of the Paris Agreement to the UN.
The Chinese government takes climate change seriously and has taken practical actions to fight it. In 2011, it started carbon trading pilot programs in seven provinces, exploring ways to reduce the cost of controlling greenhouse gas emissions via the market. Drawing on the experience of these pilots, China is building a national carbon trading scheme that covers all key industrial sectors, which is expected to be introduced in 2017.
China is also running several low carbon demonstrations at provincial, city, industrial park and community levels. And the extensive low-carbon programs have contributed to its climate change response.
For China, it is clear that economic growth and addressing climate change to achieve sustainable development can, will and must proceed hand-in-hand. Such an approach will make societies and countries, like China, only stronger and more resilient, or in other words: future-proof.
Most notably, a great opportunity lies in carbon pricing as a critical instrument to unlock the public and the private capital needed for the transition to low-carbon technologies. Putting a meaningful price on carbon, for instance, will stimulate energy efficiency technology and make renewable energy more competitive.
Our generation is pivotal: we have a moral duty to act on the science that is irrefutable. By putting a meaningful price on carbon, the current generation can take responsibility for its carbon footprint and anchor addressing climate change into our economic system.
The unprecedented challenge of climate change is now recognized by central banks, too. Mark Carney, governor of the Bank of England, recently called climate change a "tragedy of the horizons" because the impact of climate stretches beyond the traditional horizons of business and governments. From the perspective of international financial stability, an interest all countries share, he promotes addressing climate change with more urgency.
The political momentum for carbon pricing is unparalleled. Along with China, about 40 countries and more than 20 cities, states and provinces are already implementing mechanisms to tax or trade carbon, or are planning to do so.
This is why it is important for governments, businesses, universities and other parties to share the best practices, learning from each other to set definitions, to measure, to set targets and to report progress, to share the experience of working with carbon pricing and creating the most effective carbon-pricing system and policies. Several initiatives are emerging to facilitate such collaboration. It is noteworthy that more than 700 companies are considering an internal carbon price. Another 500 companies already have set an internal carbon price.
While designing and implementing carbon-pricing systems and policies comes with many challenges, the stakes couldn't be higher. Accelerated implementation of a meaningful carbon price across the globe can turn the notion of "tragedy of the commons" into an "opportunity of the commons" and create low-carbon prosperity for all. It not only makes business sense: our children and generations to come will thank us for finally stepping up.
Xie Zhenhua is China special representative for climate change affairs and vice chairman, committee of population, resources and environment, Chinese People's Political Consultative Conference, and Feike Sijbesma is CEO of Royal DSM and co-chairman Carbon Pricing Leadership Coalition.