China, UK vow pragmatic cooperation, joint efforts in climate battle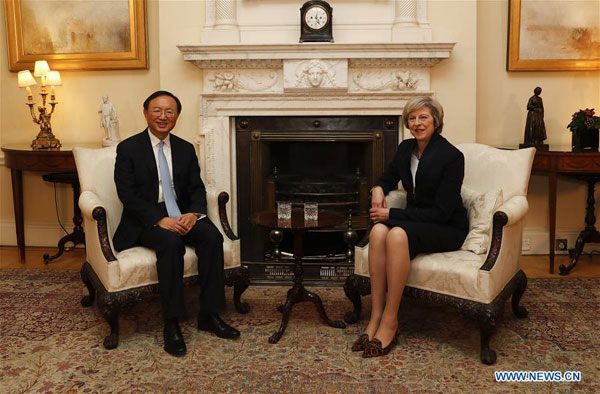 British Prime Minister Theresa May (R) meets with visiting Chinese State Councilor Yang Jiechi in London, Britain, on Dec 20, 2016. [Photo/Xinhua]
LONDON -- China and Britain on Tuesday pledged to enhance their pragmatic cooperation and join hands to combat the climate change.
The latest development came as visiting Chinese State Councilor Yang Jiechi met with the British Prime Minister Theresa May after the 8th China-UK Strategic Dialogue held in London.
Chinese and British leaders met on the sidelines of the G20 Summit in China in September, months after the Brexit Referendum and British government reshuffle. Leaders of the two countries had reassured each other for the commitment and confidence in the "golden era" for the bilateral relations.
Yang said that the mutual reassurance had injected fresh momentum into the Sino-UK cooperation. China stands ready to maintain frequent exchanges of high-level visits with the British side and also deepen their pragmatic bilateral cooperation in areas including nuclear power, high-speed railway, finance and innovation, he said.
The senior Chinese official also called on the two sides to strengthen their communication and coordination to solve major international and regional issues, jointly push forward the open, inclusive economic globalization and combat the global challenges such as the climate change.
On her part, May said her country is expecting to strengthen pragmatic cooperation with China in various areas and promote global free trade.
She said Britain is willing to address common challenges such as the climate changes with other countries in a concerted manner.