China to provide financial support to developing countries coping with climate change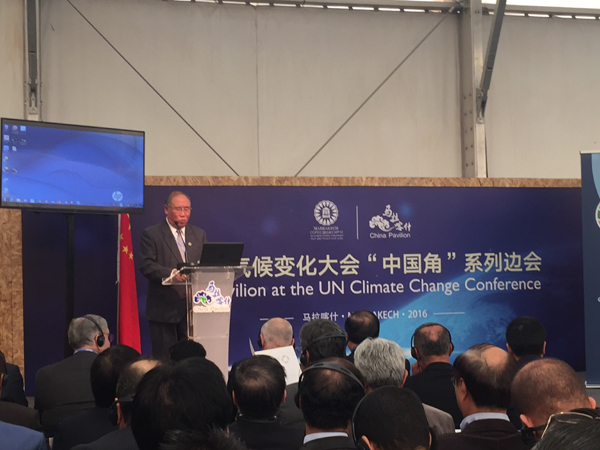 Xie Zhenhua, China's special representative of climate change, speaks at the High-Level Forum on South-South Cooperation on Climate Change on the sidelines of the United Nations Climate Conference on Monday. [Photo by Wang Yanfei/chinadaily.com.cn]
China plans to enhance financial support to developing countries to adapt to climate change through a south to south cooperation scheme, a senior official of the Chinese delegation said during UN climate talks on Monday.
Speaking at the High-Level Forum on South-South Cooperation on Climate Change on the sidelines of the United Nation Climate Conference, Xie Zhenhua, China's special representative of climate change, said that China would facilitate south-south cooperation on climate change by providing more financial support to developing countries through the 20 billion yuan ($2.9 billion) South-South Cooperation Fund.
The fund, China's independent contribution on global climate finance, "represents part of China's best efforts" to actively participate in global efforts to tackle climate change challenges, said Xie.
The fund was announced by Chinese president Xi Jinping during the Climate Change Conference held in December in Paris.
Xie said China will use the fund to help developing countries build low carbon demonstration areas, provide personnel training and donate energy-saving renewable energy facilities, as well as promote climate-friendly technologies.
"China would ensure money meets the needs of developing countries in adapting [to] climate change," said Xie.
Since 2011, China has provided 580 million yuan to help other developing countries cope with climate change, through construction projects that improve capacity building activities.
Xie urged developed countries to "keep pledges" on providing support to developing countries on climate adaptation through Green Climate Fund, a fund within the framework of the UNFCCC founded to assist developing countries in climate change.