New measures introduced to curb school bullying
Government tackles the growing problem of physical and mental torment on campus, report Xin Dingding in Beijing and Liu Ce in Shenyang.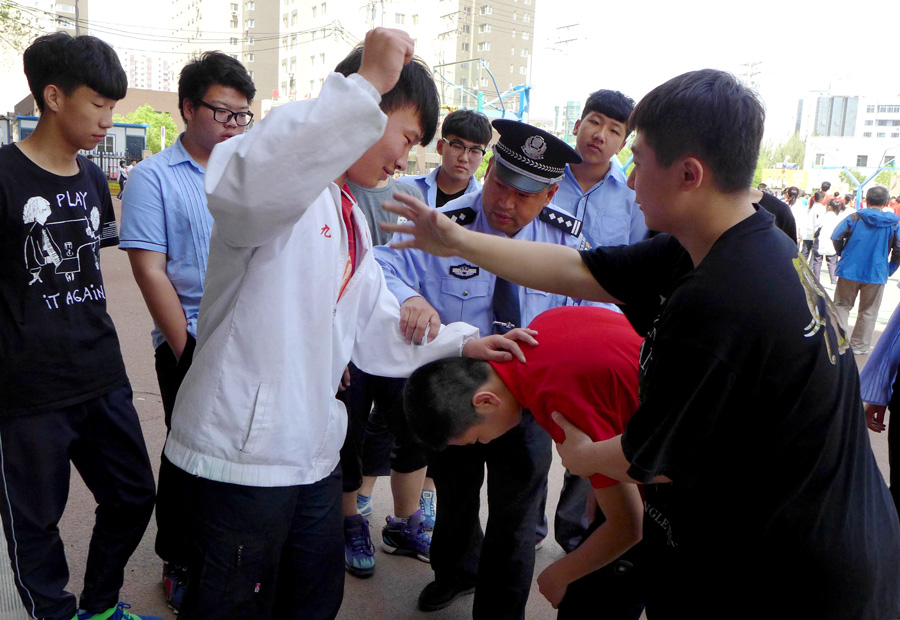 A police officer teaches students how to avoid being bullied during an awareness-raising class at a middle school in Shenyang, Liaoning province. [Photo by ZHAO JINGDONG/CHINA DAILY]
The government has released a guideline to address the problem of bullying and student violence in primary and middle schools. The measures were released on Friday by nine government departments, including the Ministry of Education, the Supreme People's Court, and the Ministry of Public Security.
Schools have been ordered to strengthen awareness of bullying, to inform students about the consequences and to teach them to protect themselves. Moreover, students with severe behavioral problems face being transferred to special schools appropriate to their needs, and in serious cases, the perpetrators will face administrative or criminal penalties.
Local governments have been instructed to establish teams headed by leading local officials to oversee compliance, and officials will be held accountable for serious incidents or violence in areas under their control.
Widespread problem
The move acknowledges that bullying has become a widespread problem in China's schools, spawning physical violence and mental anguish. In the most extreme cases, students have been forced to drink urine and even threatened with arsenic poisoning.
Xi Leng, (not her real name, but her username on Zhihu, a question-and-answer website) was bullied during her early schooling. Even though she turned 20 this year, she is still traumatized by her experiences during her "nightmare" years at primary school.
"I struggled desperately every day then, and even considered suicide," the Shanghai resident said, recalling how her lunch was dumped on the floor because she refused to fetch a bowl of soup for a classmate in the school dining hall, her books were covered with graffiti and ripped, and her name was deliberately changed on her homework before it reached the teachers.
Xi's problems began after a boy began acting aggressively toward her, but received no punishment except a verbal warning from the teacher. Gradually, she became the target of bullying for the entire class. "I had hay fever and had to use lots of paper tissues to wipe my nose, which many of my classmates found annoying, I guess," she said.
She tried to fight the boy, but lost, so she told her parents about the problem. They spoke with the teacher in charge, but no action was taken.
Xi's suffering didn't stop until her parents said that they would bring the matter to public attention and allow the school and the teacher to suffer the consequences. Feeling the pressure, the teacher warned the students that if they continued to bully Xi, they would not be allowed to graduate from primary school.
"Back then, nobody took school bullying seriously. They thought it was just a nasty spat between kids-after all, I wasn't beaten up or forced to hand over money," Xi said.
For some victims, the effects of bullying can lead to crippling social dislocation in later life. Zhang Xiaoyu, another Zhihu user, wrote that her middle school classmates ridiculed and humiliated her because she had body odor: "All I thought about in those years was killing myself and killing those who humiliated me. I hated to hang out with people, quit school and suffered depression. Even now, I still have social phobias, a fear of other people's attention and I do not easily trust others."

Related stories:
Growing up is a child's own experience

How Japan and the US deal with the problem