Water bottles put missing kids' photos in public's hands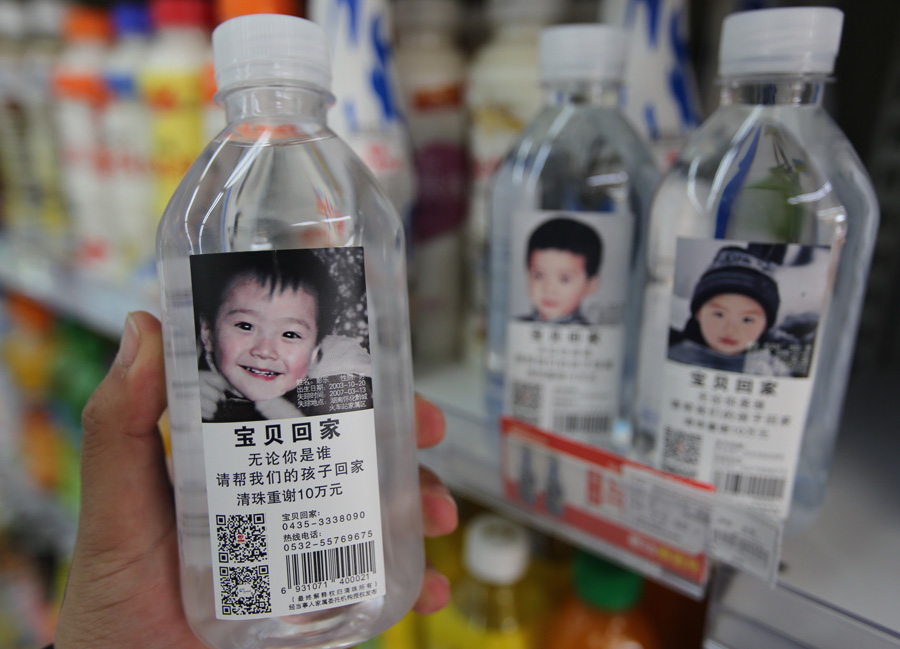 Photos of missing children are being printed on bottled water by a company in Qingdao. [Photo by Zhang Xiaopeng/CHINA DAILY]
A bottled water company in eastern China has begun printing pictures of missing children on its packaging to help parents and authorities find them.
Qingdao Kingtex International said it has sold 500,000 bottles with information on six children missing since July. The labels also include the child's birth date and a hotline number.
"We just wanted to play our part in helping those parents who might spend their lifetime searching for their missing children," said Shi Yiwei, a marketing manager at the company.
"We're mainly selling the water bottles in Qingdao," she said. "Next, we'd like to expand the program to Beijing and Shanghai, to spread the information nationwide, so as to raise more awareness of missing children."
The project was launched in cooperation with Baobei Huijia (Baby Back Home), a volunteer group that supports parents looking for missing children nationwide.
"It's always a good thing to add another method to help search for lost children. At the very least, these efforts will help to draw people's attention to the problem of child trafficking," said Zhang Baoyan, who founded the group with her husband, Qin Yanyou.
Kingtex's water bottles have received a lot of attention on social media. While some applaud the move, others have questioned the company's motives, not least because its bottled water sells for 5.5 yuan (80 US cents), higher than many domestic brands.
"The water is so expensive. Can't the company lower the price so as to improve sales and spread the information to more people?" wrote one netizen on Sina Weibo, the popular Twitter-like platform.
Shi said Kingtex's prices have remained the same since 2014. "We also distribute a number of bottles for free in order to reach more people," she added.
NGOs are playing an important role in assisting the search for missing children and combating human trafficking in China. Baobei Huijia said it has helped to reunite more than 1,700 families since it was established in 2007. "We're still working on about 31,000 unsolved cases," Zhang said.
A traditional preference for male heirs, particularly in rural areas, has led to a black market, with families willing to spend large sums for a baby boy.
Accurate statistics about China's missing children are difficult to obtain, yet authorities have been clamping down on human trafficking.
Data from the Supreme People's Court show judges at all levels heard more than 7,000 cases involving the abduction of women or children between 2010 and 2014. The trials led to nearly 13,000 convictions. In April 2009, the Ministry of Public Security established a national DNA database to help match recovered children with their biological parents.