New pecking order in Sino-UK business in 2017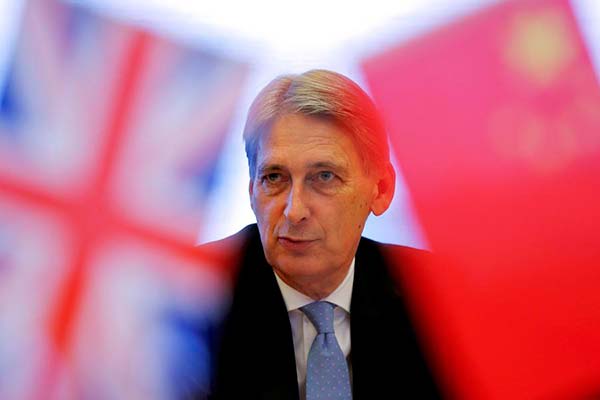 Britain's Chancellor of the Exchequer, Philip Hammond attends UK-China High Level Financial Services Roundtable at the Bank of China head office building in Beijing, July 22, 2016.[Photo/Agencies]
The year 2016 saw some ups and downs between China and the UK caused by Brexit and Hinkley. Let's hope Britain will treat China more regally in the Year of the Rooster.
The new reality is that China is an increasingly competitive place for everyone. Increased competition for domestic firms in light of the anti-corruption drive. Increased competition for British firms as they no longer benefit from preferential investment policies.
Businessmen will need to assume the following cockerel characteristics:
1. Courage of Zheng He
Leading the most powerful fleet in the world from 1405-1433, Zheng He made seven voyages to the western seas. In 2017, China is great again and the best opportunities lie in its globalization drive. But are Chinese and British businesspersons brave enough for the arduous journey?
I watched Jack Ma (modern Zheng He) interviewed by CNBC the day Alibaba listed in New York. Asked if he was "nervous" he laughed. Chinese see opportunity in change.
Quick to capitalize on the favorable post-Brexit exchange rate, during the Golden Week, I observed Chinese on their mobiles in Manchester snapping up real estate bargains. On December, 19, 2016, China National Building Materials Group Corp struck a 2.75-billion-pound ($3.41 billion) joint venture to open six pre-fabricated house-building factories in the UK.
British businesses have to cultivate the same appetite for risk.
GKN, one of the UK's first auto-parts suppliers in Shanghai, went global last year, accessing the US via their Henan joint-venture. GKN don't see China as an "outpost", but as a global hub. British businesses that adapt to the new economic pecking order win out.
2. Compassion of Lei Feng
With China's focus on balanced development in 2017, courage must be tempered with compassion; At a micro-level British companies must reflect China's new focus on balanced development via enhanced CSR programs as two new charity laws will take effect in 2017. Every company will be required to show its contribution towards more equal development.
At a macro-level, post-Brexit Britain can learn a more balanced form of globalization from China. Zheng He did not go abroad to invade but to trade. If inclusive capitalism is Theresa May's mantra, Jun Liqun (AIIB President) must be her man. Turned on its side the logo of AIIB looks like an equals. Right way up it looks like a railway across the globe.
3. Clever like Confucius
As China urbanizes and the middle class expands to 600 million by 2020 there is ample opportunity for new innovations in education, healthcare and tech. However, in order to realize these opportunities, British business needs to learn to communicate effectively with China.
Confucius was an expert in reducing difficult concepts to manageable sound-bites. UK Plc needs to be more willing to communicate quickly with China, able to clearly articulate their USPs and more ready to listen to ideas on how to localize.
For institutions that show the courage to change the benefits are obvious. CIC Ltd in Stoke-on-Trent is a branding consultancy which had five employees in 2005. Since opening in Hangzhou in 2007, it has grown its business to 55 staff. Why? Because they take their time to go and visit their clients across China and listen to their rapidly changing needs in Ningbo, etc.
Conclusion
There is little doubt in my mind that China and global trade are moving up the priority list of the British government. My first meeting of the new year is with Greg Hands, Minister of State for Trade and Investment, on January 3rd. The political momentum is there.
I see the changes reflected in the British Chamber in China. My role has completely changed. Eighty percent of attendees at our events are now Chinese reflecting the outbound wave. Sixty percent of my speaking engagements are on Belt and Road Initiative. Our AGM attracted 120 last year and 380, three days after Brexit. Brexit has been a catalyst for Sino-UK connectivity and I expect it to continue.
Let's hope that UK business has the courage to push China up its pecking order to give everyone something to crow about in 2017.
Clare Pearson is chairwoman of the China-British Business Council.
The opinions expressed here are those of the writer and don't represent views of China Daily website.