Stage set for 'golden age' of China-UK
Trust and confidence are pillars on which successful international businesses are built and sustained
There has been much in the media about China's substantial initiatives in outreach as a significant world industrial power. As the largest trading economy in the world, and on the way to becoming the largest economy overall, China is making bold and extensive moves to play a part in the overall development of the global economy, including through investment and supporting developing nations.
The Belt and Road Initiative is one example of China's efforts to play a responsible part as a world leader, through action, not just words.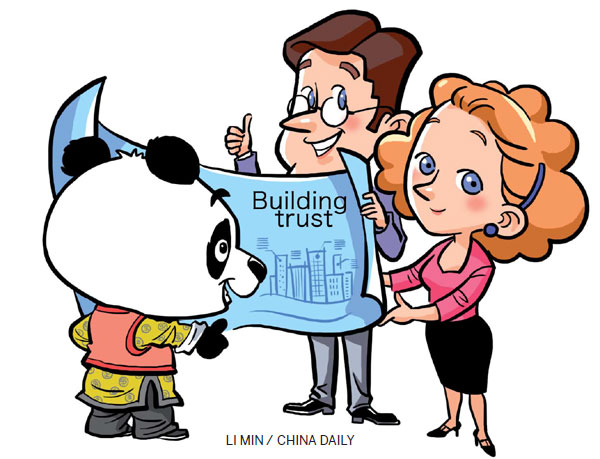 It is an extraordinary realization that China - still in some ways regarded as a developing nation, but fast maturing - has become the largest investor in emerging nations. This reality has not been widely publicized in the West.
The strategy for outreach was one of the subjects covered by President Xi Jinping in his speech at the G20 Summit in Hangzhou in September. Never in modern times has a Chinese leader played such a prominent part in a critical world event. And his speech was rich in commitments for China to play a prominent part in world development, and in the process make China stronger in fields such as corporate governance and in innovative approaches to international business development.
Speaking of the need to push for inclusive growth through trade and investment and to reduce trade barriers, Xi emphasized China's intention to use the platform provided by the G20 and following events to promote global financial governance and currency stability, and hence improve economic growth.
China's plan to use the G20 to promote closer financial governance cooperation and reduce risks in the global financial system was clearly articulated. It was especially encouraging to hear the president call for a "concrete agreement, rather than just talking about changes". We all agree wholeheartedly.
The assertion that "China will maintain its stance as open, transparent and inclusive throughout the G20 and beyond" was a welcome message.
There have been comments in the Western media about issues of trust in international collaboration. At a time when China is in such a strong position to invest in and support vital infrastructure development in several parts of the world, including in my country, the UK, I want to report on real-life experiences over my business career, during which Chinese partners and investors have helped me to grow businesses in China and across Asia.
During that period, and throughout my business life, I've found Chinese partners the most trustworthy and ethical I have worked with anywhere in the world.
In the 1990s, as CEO of Willet International, a company working in industrial electronics, the chairman and I spent time seeking a Chinese partner to set up manufacturing, sales and marketing in China. With Guangdong New Technology Corp, we quickly set up a successful operation in Zhuhai, Guangdong province, as well as sales offices across China.
I had the privilege of being chairman of a Chinese company for several years, and Chinese partners and employees supported me in establishing a company that became the most successful in a worldwide group of 100 companies in terms of sales and profit growth. It was a hugely positive experience.
I have also more recently worked with young Chinese entrepreneurs who came to the UK initially to study for master's or doctoral degrees and then subsequently set up technology companies in my home city of Cambridge, and who have demonstrated great energy and a willingness to learn and develop highly professional approaches to financing and building companies of integrity and substance.
I'm at times surprised that more of my countrymen have not grasped the great opportunities offered by the Chinese market and Chinese partners who can support the finding of pathways to success. It takes time and a commitment to understand and respect Chinese colleagues' cultural and business positions. Without such trustworthy partners, it is extremely difficult for overseas companies to succeed in China.
I'm also privileged at this present time to be working with Chinese colleagues planning the development of investment funds and related partners, to enable Chinese investors to benefit from engagement with potentially high-growth UK and European technology companies, of which there are many seeking finance and entry to the Chinese market. And in addition, I am working with a dynamic Chinese company leading the world in dig data management, founded in Chengdu, that is rapidly growing internationally, with offices in London and Cambridge.
There has been a lot of talk about a "golden age" of collaboration between Britain and China. I believe that such an age can indeed be enjoyed by our nations.
President Xi's G20 speech, what we see under way with the Belt and Road Initiative, and my own experiences in achieving international success with trusted Chinese partners give me enormous encouragement. And I urge my peers and others to take up the baton and take advantage of the opportunities that have never before been available on such a scale.
For post-Brexit Britain, trade and an international partnership with China will be more important than ever. We should have confidence and return the trust and willingness to work together now on offer from many potential Chinese partners.
Trust and confidence are pillars on which successful international businesses are built and sustained. Xi's speech set out a platform and clear plans for China to encourage us further to heed his words and find the means to secure trusting relationships on which business growth, prosperity and security can be built.
The author is a professor at Cambridge Judge Business School. The views expressed do not necessarily reflect those of China Daily.