China-UK dual degrees now within easier reach
Updated: 2016-12-09
( China Daily Africa )
Chinese students will have better chances of obtaining top-notch dual China-UK degrees - and at a lower cost - thanks to an initiative advancing student mobility and educational exchanges between the countries.
The China-UK Association for the Humanities in Higher Education joined forces with 12 top-tier universities to strengthen academic ties and promote people-to-people exchanges.
"We should take full advantage of the cluster competency of the alliance to forge a multilateral academic collaboration model," says Minister of Education Chen Baosheng, who witnessed the formation of the alliance in Shanghai.
Chen says the collaboration strives to help schools attract talented international students, and improve global visibility and prestige.
The top schools include Tsinghua University, Peking University, Oxford University, the London School of Economics and the University of Cambridge's Needham Research Institute.
In addition to joint research projects and forums, universities will offer teaching and research activities comprising double degree programs, summer schools and research trips for prospective students.
The Young Scholar Forum serves as the core cultural and academic exchange avenue for the association, with the Young Talent Program set up to encourage students to tap into innovative projects and startups.
Among the latest efforts is the LSE-Fudan Institute for Global Public Policy, a school preparing future leaders, and contributing to global governance and public affairs. The double degree program to be rolled out next year will feature cross-disciplinary teaching and recruit master's students from China and abroad.
"With China making strides on the international stage, we see pressing needs for talented people who will be able to properly present our stances in global arenas such as international organizations. That, in part, propels us to establish this joint program," says Jing Yijia, vice-director of foreign affairs at Fudan University and a professor at the School of International Relations and Public Affairs.
A collection of scholarships is up for grabs for students to relieve their financial burdens, Jing says. The school is also mulling the possibility of offering students the option to take all courses in China but still be able to earn two degrees, which would further trim tuition fees and living expenses.
"I managed to access research opportunities at two institutions and diversify my education," says Che Rui, a recent graduate with a dual master's degree in global media and communications from Fudan and LSE, a predecessor program that dates to 2007.
Che, who now works for a well-known securities broker in Shanghai, says the double degree gives him a competitive edge in the job market.
With the aid of the dual degree programs, universities can pool educational resources and use complementary teaching expertise to build study programs that they otherwise wouldn't be able to offer, according to Katherine Morton, professor and chair of Chinese international relations at the University of Sheffield.
"Many Chinese students come to study at our university each year, and I expect the number to grow. It's highly important that we have such a dialogue mechanism, and we'll get more exchange programs up and running," she says.
China remains the largest source of international students studying in the UK. According to the British Council in June, one in three non-EU students studying in the UK in 2014-15 were from China.
hewei@chinadaily.com.cn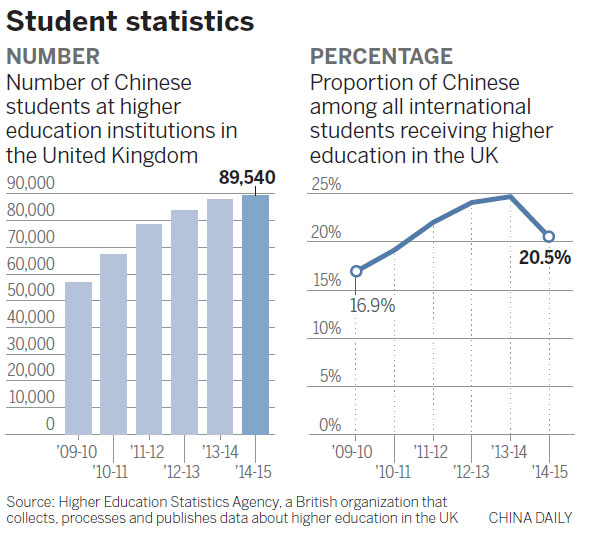 ( China Daily Africa Weekly 12/09/2016 page25)