What to expect in realty market in long run?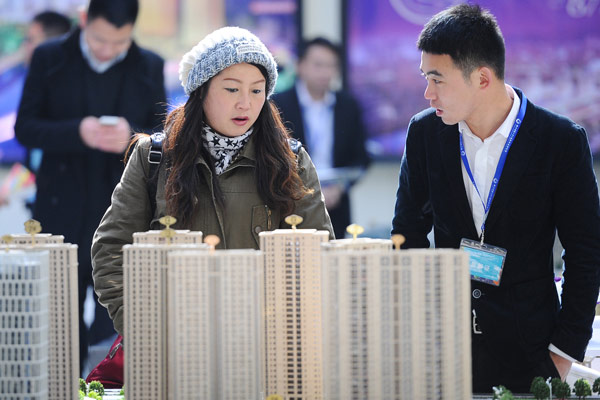 A woman talks with a salesman at a property market fair in Hangzhou, Zhejiang province.[Photo/China Daily]
China will promote the stable and healthy development of the real estate market in 2017, according to the just concluded Central Economic Work Conference. The conference made it clear that "houses are built to be inhabited, not for speculation."
After last year's Central Economic Work Conference made destocking one of the government's major economic tasks, the real estate destocking campaign led by the central and local governments has had a major impact on China's property market.
On the one hand, destocking in some first- and second-tier cities led to panic buying and skyrocketing housing prices. On the other hand, third- and fourth-tier cities are under tremendous destocking pressure.
With realty control policies becoming increasingly stricter, destocking faces severe challenges in the year ahead. Real estate inventory nationwide declined sharply during the bullish property market last year. In October, nationwide "property areas" of housing units for sale increased only 1.3 percent year-on-year, while national residential housing areas for sale fell 6 percent year-on-year. This means property destocking, in general, has been effective in 2016.
But a huge number of housing units ready for occupation awaits buyers. From February to October, the total area of housing units for sale nationwide dropped from 739 million square meters to 695 million sq m. Given the standard per capita living space area of 35 sq m, the overall area of housing units for sale could provide accommodation for 200 million people. Since the newly added population of permanent urban residents in 2015 was only 22 million, it will take about a decade, other factors remaining constant, for the vacant housing units to be filled up if we depend only on new permanent urban residents to achieve the goal of property destocking.
But if we take the under-construction housing units and housing units with limited property rights into consideration, property destocking faces a greater challenge.
More than 70 percent of the housing units for sale are in third- and fourth-tier cities, but the effects of destocking were evident mainly in the first- and second-tier cities.
According to the sales data of 40 large and medium-sized cities, housing sales in first-, second- and third-tier cities in October grew 37.59 percent, 53.43 percent and 26.72 percent year-on-year. Apparently, housing sales in the third-tier cities are way behind those in first- and second-tier cities.
As real estate control policies become tighter than before, housing sales are expected to fall in 2017, which could create more pressure on destocking. This calls for further deepening of property control policies.
Twenty-two cities have successfully implemented real estate control policies, including purchase and loan restrictions, since September. These policies have managed to remarkably cool down the property market nationwide. National Bureau of Statistics data show housing prices in major first- and second-tier cities declined in October on a month-to-month basis.
But since property developers and builders invest more in land in the first- and second-tier cities despite the control policies, realty control policies should be deepened in response to the supply side structural reforms, especially by promoting reform and innovation in taxation, household registration, social security, education and healthcare, in order to cope with the difficulties third- and fourth-tier cities face in destocking.
In contrast to the effects of destocking, housing prices continued to soar in 2016, especially in the first- and second-tier cities. In October, the housing price index in China's top-100 cities increased 18.21 percent year-on-year. But these cities' land premium rate started declining only in September, which suggests housing prices nationwide could peak in 2016 before possibly declining in 2017.
The real estate market is typically regional in nature, and local governments always want to hike housing prices to get the maximum benefit out of their monopoly over land supply. As housing prices decline, property developers' desire to buy land in some cities may also decline. This in turn may prompt local governments to reduce the supply of land for long-term sustainable development, which will be conducive to creating a more healthy market environment for destocking.
The author is a researcher at the Institute for Urban and Environmental Studies, Chinese Academy of Social Sciences.