How to revive manufacturing sector?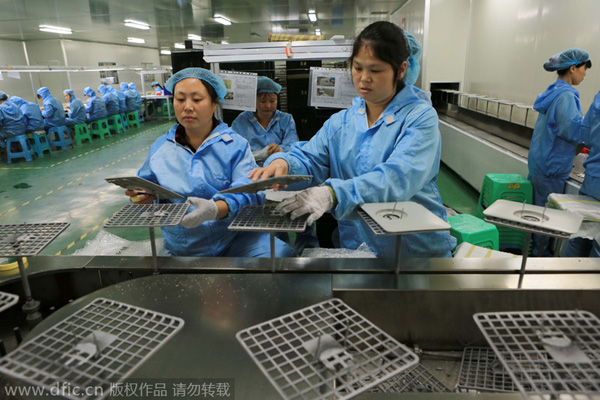 Employees process laptop components at an industrial park in Chongqing, Southwest China, April 22, 2014. [Photo/IC]
Editor's Note: This week we are presenting a year-end review of the global economy, China's economy, society and diplomacy; and the international situation. Today four researchers look at the state of the Chinese economy and give their outlooks for 2017.
China's manufacturing sector will face more challenges next year. How to make the manufacturing sector competitive in the global market and transform the country from a big manufacturing hub to a great manufacturing power is the top task of the government.
In recent years, the proportion of Chinese above-scale industrial enterprises' added-value growth, compared on a global scale, declined year-by-year from 20.8 percent in 2013 to 7 percent in 2015, and 6.5 percent in the first quarter of 2016. China's industrial added-value growth, too, declined from 10.5 percent in 2013 to 7 percent in 2015, and 6.9 percent in the first three quarters of 2016.
The slowing growth of China's manufacturing industry has exposed its underlying problems.
First, China's manufacturing industry faces the pressure of high cost in these times of economic downturn. Due to the rapid growth of costs of human resources, capital and energy, manufacturing industries' cost of production has increased sharply. Also, there are huge government-related "hidden costs" in the sector, including institutional costs for approvals, and legislative costs such as social security deposits.
For every 100 yuan ($14.37) of income, the cost of production of the main manufacturing sector increased from 85.27 yuan in 2013 to 85.68 yuan in 2015, and 85.87 yuan in September 2016.
Second, overcapacity, too, is a serious problem for the manufacturing sector. Overcapacity is the result of the economic downturn China has been facing since 2013; it is a major problem especially for the industries making low-end products with a high degree of homogeneity.
But the effective supply of some high-end products by this sector is insufficient. Take the iron and steel industry for example. Although overcapacity plagues the iron and steel industry, China's import of thick steel plate, medium-width steel plate and cold-rolling steel sheets increased 18.5 percent, 6.9 percent and 4.5 percent year-on-year in 2015, indicating the demand for these high-end steel products exceeds supply.
Third, China's manufacturing sector still lags behind in research and development. A huge number of Chinese manufacturing enterprises are still original equipment producers of famous international brands, and almost all the core technologies in these fields are the intellectual properties of foreign companies. Besides, China's manufacturing sector lacks sufficient investment in R&D, and cultivating technological and innovative talents, not to mention independent brands, and supply and marketing networks.
Fourth, China's manufacturing sector faces increasingly severe competition in international markets. While some developing countries, such as India and Vietnam, face lower-cost competitiveness than China, manufacturing giants like the United States and Germany have launched a new round of industrialization to help develop their manufacturing sector, which are having an impact on China's manufacturing sector.
To strengthen China's manufacturing sector, the government has to implement separate policies to reduce overcapacity and cultivate industrial competitiveness. Preferential policies should be offered to producers of high-end goods whose demands are high. The government should also help enterprises with overcapacity to reorganize or merge with other organizations to solve their overcapacity problem.
Measures such as preferential taxation and financing support should be implemented by the government, too, to help enterprises reduce their production costs. One way of helping such enterprises to overcome the problem is to encourage them to transform into more service-oriented and high value-added companies, which in turn will help increase the core competitiveness of "made in China" products.
Innovative enterprises and innovative centers promoting core competitiveness should also be established to support independent research and development of China's manufacturing sector.
In addition, the development of "intelligent manufacturing" should be expedited with the help of "Internet Plus". And mobile internet, cloud computing, big data and "Internet of Things" should be integrated with the modern manufacturing industry, in order to promote China's added-value industrial revolution.
The author is a researcher at the Institute of Industrial Economics, Chinese Academy of Social Sciences.