Some lessons in diplomacy would benefit Trump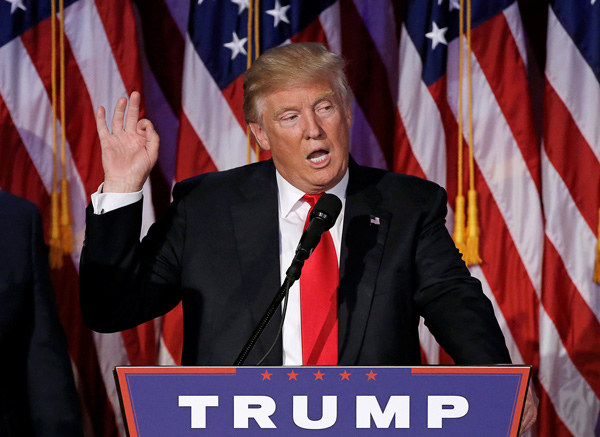 US President-elect Donald Trump speaks at election night rally in Manhattan, New York, US, November 9, 2016. [Photo/Agencies]
Donald Trump is annoyed at the backlash against his phone conversation with Tsai Ing-wen, the leader of Taiwan, who is desperate for support from the United States in her cross-Straits standoff with the Chinese mainland.
The United States president-elect sought to defend himself on Friday on Twitter, saying: Tsai called him, not vice versa; and he saw nothing wrong with receiving a congratulatory call from Taiwan, which buys billions of dollars of US weapons.
In other words, it was a courtesy, and he values the island as a business partner.
These excuses were too lame to stop Beijing making diplomatic representations and failed to quell broader worries about his inexperience and policy orientations.
So Trump fired back again on Sunday, arguing China had not asked for US consent when-he alleged-it devalued the yuan, levied taxes on US exports, and built military facilities in the South China Sea. The unspoken rhetorical question being: "Why should I seek their consent for answering that call?"
Yet the island has been regarded as the "most important, most sensitive" topic in China-US relations, and the White House was also quick to restate its commitment to the one-China policy.
Beijing's response indicates a strong desire for healthy China-US relations in the coming Trump era.
Whether that call from Tsai was "a petty trick by Taiwan", or trial balloon of any kind, Trump broke a decades-old bilateral diplomatic consensus and touched an ultra-sensitive diplomatic nerve.
If Trump's Friday twitter post was more or less an instinctive reaction from a businessman, the Sunday posting exposed pitiful neglect, if not willful disregard, of both governments' persistent endeavors to anchor the delicate, and recently volatile, relationship.
Trump may dislike, distrust the diplomatic establishment in Washington D.C., and aspire to rework US foreign policies. But he should first come to terms with the real, not imagined, reality of international relations before wielding the scalpel, because a misstep as president will be far more damaging than one as president-elect.
As president-elect, Trump can expect some forgiveness even when he is shooting from the hip. But things will be different when he becomes president.
To stop acting like the diplomatic rookie he is, the next US president needs help in adapting to his forthcoming role change. Otherwise, he will make costly troubles for his country, and find himself trying to bluster his way through constant diplomatic conflagrations.