Commentary: Fidel Castro dies, but spirit lasts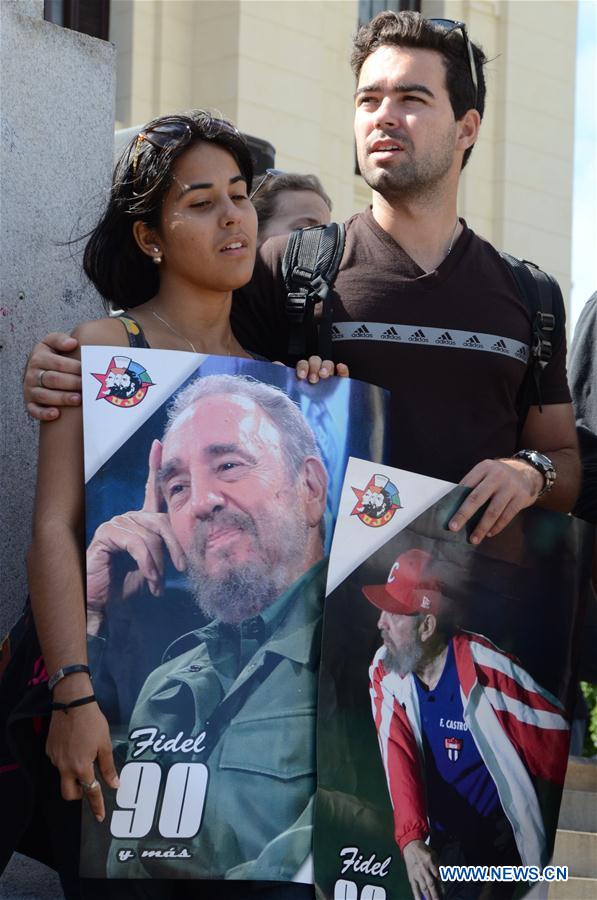 Students from the University of Havana gather outside their school to pay tribute to the leader of the Cuban Revolution, Fidel Castro in Havana, Cuba, Nov. 26, 2016. Aged 90, Castro passed away late Friday night.[Photo/Xinhua]
The death of Cuban revolutionary leader Fidel Castro, the founder of the Cuban Communist Party and Cuban socialist cause, is a great loss to the Cuban and Latin American people as well as to the world socialist development.
Castro, who died late Friday at the age of 90, deserved to be called a shining figure of the times.
As a great leader of the Cuban people, he established the first socialist country in the Western hemisphere, led the Cuban people in struggling for national liberation and made immortal contributions to the world socialist development.
He led the Cuban people in safeguarding national sovereignty and dignity against the long-time U.S. isolation and embargo.
He supported his brother Raul Castro in promoting reform, opening-up and development transformation in Cuba.
Today's Cuba has witnessed steady economic and social development. Its education and medical services are among the best in Latin America. Such fruits of socialist construction can be shared among the Cuban people thanks to Castro's idea and faith to realize fairness and justice, a goal that every modern society strives to reach.
Under Castro's leadership, the Caribbean island's spirit of safeguarding sovereignty and independence and choosing a path of development that suits its national conditions inspired many other developing countries.
On the global stage, Castro made relentless efforts to safeguard the interests of developing countries, call for the establishment of a new international order and promote the Non-Aligned Movement.
With a spirit of internationalism promoted by Castro, Cuba sent doctors and teachers to other Latin American countries to help them improve the people's livelihood.
The death of Fidel Castro marks the end of an epoch, but Cuba's socialist cause will continue. The new Cuban leadership led by Raul Castro has made progress in promoting reform and spurring the economy crippled by U.S. sanctions.
Fidel Castro's glorious image and great achievements will go down in history and his spirit will be remembered forever.