Castro's death is a reminder the Cold War is already over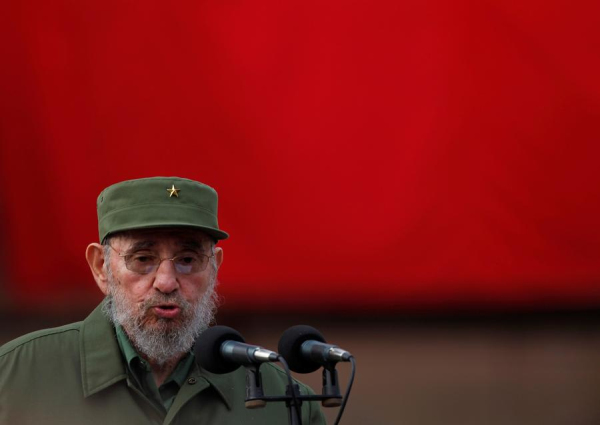 Former Cuban leader Fidel Castro speaks during celebrations to commemorate the 50th anniversary of the creation of the Committees for the Defense of the Revolution (CDR) in Havana in this September 28, 2010 file photo. [Photo/Agencies]
Whatever the reactions to the death of the longtime leader of Cuba Fidel Castro, who died on Friday at the age of 90, he was undoubtedly a political figure of extraordinary influence.
Whatever the evaluations about what he has done for his own country and people, and whatever conclusions people of different political standings have reached or will reach about this man's political legacy, it is beyond doubt that he left a deep political mark in a time characterized by ideological confrontation and the Cold War.
At the mention of this famous name, we cannot help but think about the political turmoil and chaos that the ideological confrontation between the two political camps brought to many parts of the world in the last century. Yet despite the isolation and economic embargo imposed on the island by its powerful neighbor the United States for more than 50 years, this man called the world's most developed country's bluff and led his people on a path of their own. One that they stuck to despite the suffering for want of the development opportunities they would have had without the political divide.
His death marks the end of an epoch. Looking back at what this man and his contemporaries went through, it is imperative for current political leaders to recognize that what should dominate the political landscape of today's world are peace and development instead of confrontation or a Cold War.
For Cuba, its diplomatic relations have been restored with the United States and Barack Obama has become the first sitting US president it has received for a State visit in the past more than 50 years. Although the US' economic embargo is still in place, it has been loosened. It will no doubt be further loosened as long as both countries can sit down and talk, and both peoples have closer contact.
Chinese leaders have made it clear to the world on different occasions that the country will follow a peaceful path in its national rejuvenation. This is because they strongly believe that political or military confrontation will lead the world nowhere, as has been evidenced by what Fidel Castro and his contemporaries witnessed over a large part of the last century.
Today both the developed and developing countries have their own problems, and globalization has encountered a lot of stumbling blocks. To overcome these challenges requires their joint efforts.
Castro's death should be a reminder that the world cannot afford to relive the Cold War.