Seoul should know reasons behind cooling cultural ties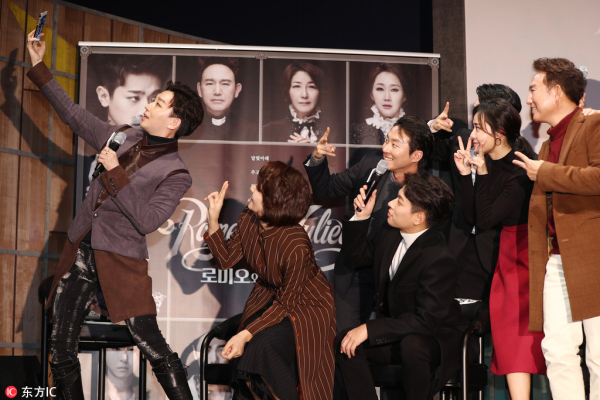 Actors are taking pictures during a press conference in South Korea.[Photo/IC]
The government of the Republic of Korea is reportedly concerned that the South Korean Wave has lost momentum in China.
Reports of a recent increase in the cancellation of pre-scheduled shows by performers from the ROK do warrant concern, because such shows account for a hefty part of the ROK's cultural exports to China.
Seoul tends to believe the Chinese government has introduced restrictions in retaliation for its decision to deploy the United States' Terminal High Altitude Area Defense anti-missile system, and is reportedly planning to tell Beijing that THAAD should not be allowed to negatively affect cultural exchanges.
If decision-makers in Seoul do have such an intention, we would strongly advise against putting it into practice, because it would in no way advance the ROK's interests and would simply make their government appear naïve and unreasonable.
Because, in the first place, there is no evidence Beijing has implemented any restrictions. A Chinese Foreign Ministry spokesman said he had not heard of any. Nor have we.
It is hard to explain why some shows appear unaffected, while others are being canceled, if the cause is government restrictions. That means if there have been cancellations, they are in all likelihood decisions that have not been made in government offices.
After all, the present-day Chinese entertainment market is predominantly commercial. And it is notable the historic low in government-to-government relations has not stopped Chinese tourist arrivals and spending in Japan from surging, evidence that government preference does not always dictate consumer choices.
It is unrealistic of Seoul to assume that public sentiment in China is somehow immune to its deployment of THAAD, a clear and present danger to China's national security that Chinese people are angry about.
Feelings in East Asian countries are particularly sensitive. While THAAD itself may not immediately, tangibly, directly affect Chinese consumers, supposing that the concern about the threat it represents will be confined to the political realm and between governments is self-deceiving.
Instead of asking Chinese to disregard the affront, Seoul should ask itself why the previously good relations have soured, and engage in meaningful damage control.