AIIB could be US option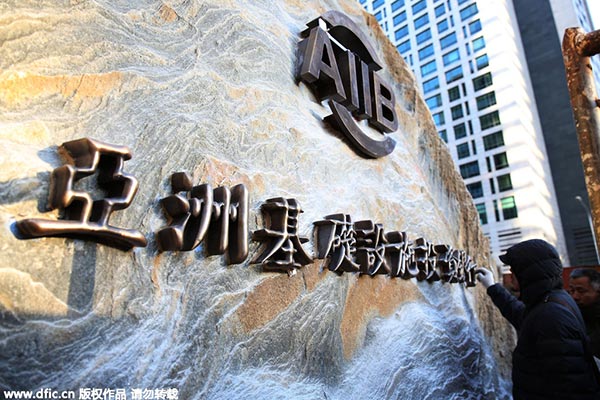 The possibility of a policy U-turn by Washington to embrace the China-led Asian Infrastructure Investment Bank following Donald Trump's win in the US presidential election is to be welcomed, since it would be in the interests of the United States and Asia at large.
I have to admit it: as a Democrat, I was crestfallen by Donald Trump's election win.
There is, however, much wisdom in the venerable old adage "every cloud has a silver lining" but this time I think that a a cooperation unimaginably scarcely a fortnight ago is now lined with gold: - Sino-US partnering in the Asian Infrastructure Investment Bank (AIIB).
A number of planets are aligning in the US, China and the international economic sphere to make this long-shot a real win-win possibility. Just as it took a rabid Cold Warrior, President Richard Nixon, to establish relations between our two countries, President-elect Donald Trump may well surprise us, and be instrumental in putting both our countries on course to build a new model of great power relations.
Trump advisor Admiral James Woolsey fired the opening salvo two days after the astonishing election results were confirmed when he wrote in an editorial that the Obama Administration's rejection of the China-led AIIB was "a strategic mistake".
China's positive response came quickly. Ministry of Foreign Affairs spokesman Geng Shuang welcomed Woolsey's comments saying that if the US joined AIIB "it is not a bad thing". AIIB President Jin Liqun noted that US membership in the bank cannot be ruled out and humorously said, "the letter 'A' in AIIB can stand for Asia, Africa or America".
Ironically, despite fierce US pressure against allies joining AIIB, the US and Japan were the only two G7 nations not to become members. China saw this as an American attempt to deter China's rise.
Now that Obama's Trans-Pacific Partnership is dead in the water, the US can ill afford to leave a power vacuum to be filled by China in the Asia-Pacific region and beyond. Moreover, if the US were to join AIIB, they would, at the very least, have a say in which infrastructure projects are funded. And given the US's large say over funding by the World Bank and International Monetary Fund, projects can could be highly coordinated and funds better targeted.
Now with a new US team about to take the field, change is in the air. Since even AIIB's generous funding reserves fall far short of the capital needed to fund infrastructure projects it is mandated to finance in Asia and beyond, there is a real chance to have a strategic Sino-US coordination, if not outright collaboration. I can't think of a better and more productive confidence-building measure than this.
Win-win constructive engagement can soften the sometimes adversarial model of the Obama years. And instead of campaign vitriol spewing forth from both Mrs. Clinton and Mr. Trump, since actions speak much louder than electioneering rhetoric, US participation in AIIB would definitely be a concrete sign of the US not only extending an olive branch to China but putting its money where its mouth is.
That seemed like an impossible dream at the time, but in light of the election and Admiral Woolsey's comments, it may be right on the mark! Maybe every cloud does indeed have a golden lining!
The author is advisor to Tsinghua University and a senior featured contributor to China Daily website.