China, world's growth engine and stabilizer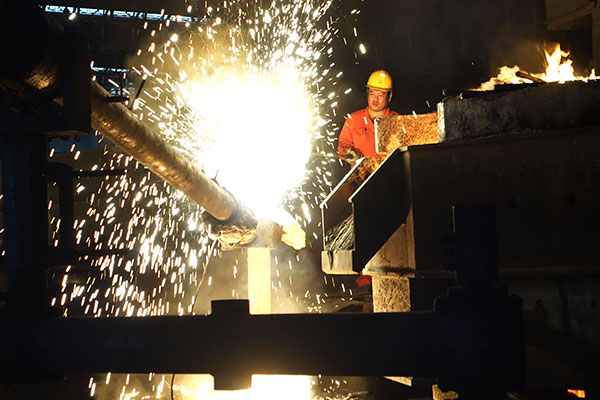 Workers at a steel factory in Dalian, Liaoning province. [Photo/China Daily]
Editor's note: In a long-ranging interview with China Daily website, John J. Kirton, Professor and Director of G7 Research Group from Toronto University, comments on China's Q3 data and discusses the opportunities and challenges both China and world are faced up with in 2017. He emphasized that the Q3 data confirm that China continues to have strong, steady macroeconomic growth.
1, what's your evaluation of Q3 data? Many analysts pay special attention to PPI, the producer price index, which gauges factory-gate prices, rose by 0.1 percent year-on-year in September and had been falling in China since March 2012, does the PPI growth hint reform measures are taking effect?
The Q3 data confirm that China continues to have strong, steady macroeconomic growth. It thus continues to serve as the great global growth engine and stabilizer protecting the global economy from such shocks as Britain's decision to leave the European Union. Encouragingly, this small rise in the producer price index suggests that China's domestic economic reform measures are taking effect, although more and broader data will be needed to confirm the ability of China's leaders to meet their goals.
2, Could you give some predictions around the growth rate of China's GDP for 2016 the whole year, and your outlook for 2017? Is it possible that China's economy would reach the bottom at the end of 2016 and then welcome a rebound in 2017?
China's GDP growth rate for 2016 as a whole will come in very close to 6.7%. The forecast for 2017 is clouded by the uncertainty in the United States over the economic and other policies to be adopted by Donald Trump when he assumes the office of President in January. Should he inject major new fiscal stimulus and infrastructure spending while keeping trade open with China, this boost from the United States could lift China's growth in 2017 beyond 6.7%.
3, Could you give some comments on the most impressive achievements and the bottlenecks that developed economies and emerging markets met in 2016 respectively?
The most impressive achievement that developing and emerging markets met respectively in 2016 was maintaining growth beyond that of the established economies while reducing inequalities within their countries, while most established most established economies fell further behind in this regard. At the same time, the leading emerging economies suffering a plunge in growth -- Brazil and South Africa -- are paving the way for a strong recovery by confronting the pervasive corruption that has crippled their growth and that of emerging and developing economies everywhere. This will be reinforced by the success of the G20 Hangzhou Summit under the impressive leadership of President Xi Jinping in aggressively attacking corruption in a coordinated way. However, both developed and emerging economies suffer from increasing deficits and debt in the government sectors at all levels, and in property markets in some countries.
4, The world's largest bond funds PIMCO launches a report on world economy outlook 2017 to claim that the dominant factors of world economy would change from 3C ( China, Commodities, Central Banks) to 3P (Productivity, Monetary/Fiscal Policy and Politics), how would you view the change they claimed?
The dominant factors of the world economy will change from a reliance on monetary to fiscal policy through deficit spending and infrastructure investment and toward productivity boosted by that infrastructure spending and by the achievements of the Hangzhou Summit on its first priority of innovation. However, China will remain central, especially with the post-Brexit constraint on growth in Europe and the uncertainty about economic policy and growth in the United States under President-Elect Trump.
5, The World Economic Outlook 2016 issued by IMF calls for countries all over the world to use coordinated cooperation and effective policy levers to boost the growth prospect, what's your views to use these two tools properly?
The WEO 2016 is right to call for coordinated cooperation and effective policy levers to boost growth. Yet three other things are needed to get the job done. The first is using greater fiscal stimulus to catalyze business confidence, structural reform and enhanced productivity. The second is to ensure open trade and investment under high standard rules that ensure their benefits are felt by all. And the third is to take measures to ensure that G20 countries comply with their leaders' growth commitments, above all the 2014 Brisbane Action Plan that promised to boost growth 2% above trend by 2018 but is badly lagging in reaching that goal.
6, People are paying intensively close attention on whether property market could sustain stable development and whether private investment would grow. How would you see these two areas in 2017?
The soaring value of property markets in China, Australia, Canada and even parts of the United States are indeed a cause for concern. But they are an important source of domestic-led growth, create productive fiscal assets for young entrepreneurs working from home, enhance social well-being and family life, and are being more responsibly regulated by government authorities. This happy combination should continue in 2017, but will need governments to ensure that property developments take place in the way that realizes President Xi Jinping's vision of creating an ecological civilization for all.
7, The research department of PBOC pointed out, compared to other economies, the ratio of debt and GDP in China's non-financial sector is still reasonable, while the leverage ratio of corporates sector maintains high and keeps moving forward. Would you give some suggestions for de-leverage? Evidences from other countries improve that for the first 2-years of de-leverage process, it somehow could pose negative influences for the economic development, after this period then it could achieve rebound, how could we control the short-term negative influences brought by deleverage?
Serious concerns about China's debt burden relate only to the combination of state-owned enterprises (SOEs) and their local government supporters. The proper way to de-leverage is to pursue more energetically President Xi Jinping's goal of moving toward a market-dominated economy in which private-sector firms rather than SOEs dominate and in which local governments more reliably implement the policy directions from the centre in this regard. Any short-term influences brought by de-leverage could be offset by creating an ecosystem in which young entrepreneurs and business start-ups could thrive to provide a new source of stimulus, jobs and innovation in a purely private-sector way.