HK court ruling shows illegal acts not tolerated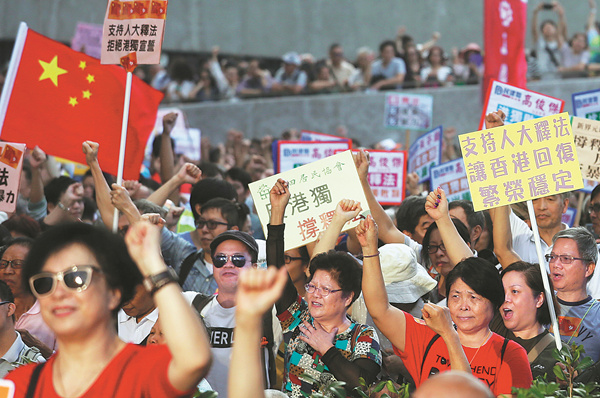 Tens of thousands of Hong Kong residents join a rally outside the Legislative Council complex to show support for the NPC Standing Committee's interpretation of the Basic Law on Nov 13. Roy Liu /China Daily
Residents in Hong Kong heaved a sigh of relief on Tuesday after the special administrative region's high court ruled that two legislators-elect have been disqualified for violating the Basic Law in the SAR and the local ordinance concerning the oath-taking process when assuming office.
The verdict ended for the time being the huge controversy surrounding the improper oath-taking of Sixtus Leung Chung-hang and Yau Wai-ching on Oct 12, which had cast a long shadow over Hong Kong.
The ruling was made in a judicial review filed by the chief executive and secretary for justice of the HKSAR government on Oct 15 that asked the court to overrule the decision by the president of the Legislative Council to give the two lawmakers-elect a second chance at swearing-in.
The judge ruled that Leung and Yau clearly violated Article 104 of the Basic law and Section 21 of the Oaths and Declarations Ordinance when taking the LegCo oath on Oct 12, and therefore their swearing-in is invalid and void and has no legal effect. Thus they have been disqualified as LegCo members. This means that unless a higher court overturns the ruling they are not allowed to perform legislative duties or retake the Leg-Co oath.
It should be noted that the judge acknowledged in his eight-page explanation of the verdict that the interpretation of Article 104 of the Basic Law approved by the Standing Committee of the National People's Congress on Nov 7 is legally binding and applies in Hong Kong courts at all levels. It provides a clear exposition of the constitutional authority of the NPC Standing Committee to interpret the Basic Law.
As the judge pointed out, this issue is not just an internal affair of LegCo. The fact that Leung and Yau breached the Basic Law and relevant Hong Kong ordinances rendered the incident a legal matter and the judiciary had every reason to step in.
Which is why the great majority of Hong Kong residents felt relieved after the ruling, for not only is it a slap in the face for those opposition lawmakers who have condoned and even assisted Leung and Yau over the past weeks, more importantly, it also means the rule of law prevails in the SAR despite the efforts of those who would have it otherwise.
Whether Leung and Yau appeal the decision, the ruling shows there is no question the rule of law still works as it should in Hong Kong despite repeated attempts by certain ill-advised parties and individuals to weaken it.