Hong Kong lawmakers have duty to uphold Basic Law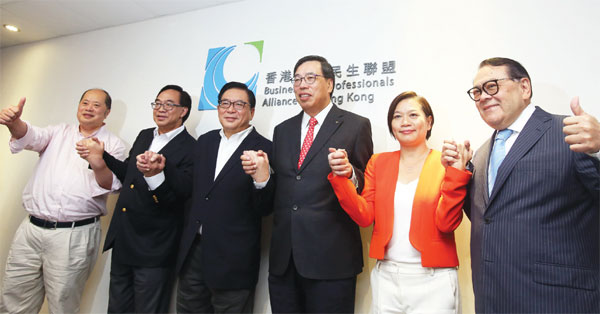 Kowloon West lawmaker-elect Priscilla Leung Mei-fun (second right) celebrates with her party colleagues after winning a seat in the Legislative Council election during a press conference of the Business and Professionals Alliance for Hong Kong at Admiralty on Monday. Parker Zheng / China Daily
The nation's top legislature on Monday clearly set out what is required of those about to take public office in Hong Kong before they can assume their duties in the special administrative region.
The Standing Committee of the National People's Congress has the right to interpret Hong Kong's Basic Law, which serves as the constitutional document governing the city, and it clearly identified as mandatory adherence to Article 104. This states that when assuming office members of Hong Kong's Legislative Council have to swear they will uphold the Basic Law and pledge their allegiance to Hong Kong as a special administrative region of the People's Republic of China.
The interpretation has been prompted by the actions of two legislators-elect-Sixtus Leung Chung-hang and Yau Wai-ching-who deviated from the prescribed wording when stating the oath and displayed a banner proclaiming "Hong Kong independence".
As this is the first time the NPC has intervened before the Hong Kong courts decided a case, the opposition camp has made the expected fuss claiming Beijing is intervening in the SAR's judicial affairs and has dealt a severe blow to Hong Kong's judicial independence.
However, this ignores the incontrovertible fact that the country's top legislature has the constitutional power and duty to uphold the country's sovereignty, national security and territorial integrity, of which the SAR is an inalienable part.
This power is enshrined in the country's Constitution and the Basic Law of Hong Kong, and can be exercised whenever the top legislature deems it necessary.
It is always with extreme prudence that Beiijng exercise this power. It has respected Hong Kong's high level of autonomy and the principle of "Hong Kong people governing Hong Kong", and the NPC has only extended a helping hand to the SAR with an interpretation of the Basic Law on four previous occasions.
That it has done so this time is out of necessity. Disguised as "localism", separatism is seeking to infiltrate the Legislative Council, which threatens the rule of law in Hong Kong.
The interpretation, therefore, says that those who advocate for independence for Hong Kong are disqualified from election and from assuming posts as lawmakers. They should also be investigated for their legal obligations.
The kind of powers the central authorities confer to the SAR are all prescribed in the Basic Law, but a "high degree of autonomy" does not equal absolute autonomy. The clear interpretation of Article 104 was a necessary move, as separatism in the SAR cannot be condoned and the rule of law must be safeguarded.