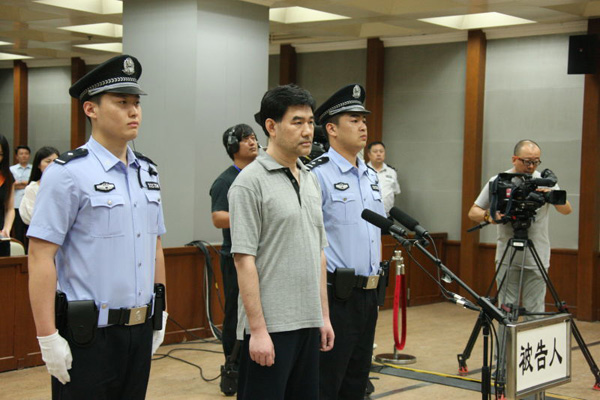 Sun Xin, previously one of China's most-wanted economic fugitives, stands trial at Beijing No 2 Intermediate People's Court on July 26, 2016. [Photo/provided to chinadaily.com.cn]
That some grassroots civil servants in Shijiazhuang, North China's Hebei province, embezzled large sums of government money ostensibly to reduce excess capacity shows how far removed the local government is from the rule of law, Beijing Times said on Tuesday.
Some officials of the environmental protection and industrial administration departments asked for millions of yuan in kickbacks from enterprises, which could receive government grants for suspending production to reduce overcapacity.
After pocketing the money, the officials reported to higher authorities that the enterprises had already eliminated their overcapacity. But the factories had not ceased operation.
The case damages the government's image and credibility, and could hamper the implementation of the central government's economic restructuring plan.
The ongoing economic transformation and reform provide officials with opportunities to trade their power for money. In the Shijiazhuang case all the disciplinary and supervisory mechanisms failed to pull away the officials from the temptation to make big money.
Despite the government reform over the past four years, financial, personnel and approval powers at the grassroots level are still controlled by a few key government departments. They play important roles in the implementation of policies, rules and reform. Power tends to corrupt, and absolute power tends to corrupt absolutely.
The central government needs to think of better ways of expediting the economic restructuring plan rather than simply awarding enterprises taxpayers' money. Before the rule of law is implemented in its entirety, money-driven economic restructuring is likely to give rise to corruption, which can slow the momentum of reform and diminish people's belief in the reformers.
Professional and independent agencies, instead of officials, should evaluate enterprises' efforts to reduce or eliminate overcapacity and protect the environment. There should also be independent disciplinary and supervisory mechanisms to monitor the exercise of power by government officials.
If the government reform lags behind the economic reform, neither will succeed.