Rousseff warns of severe crisis in Brazil as corruption arrests continue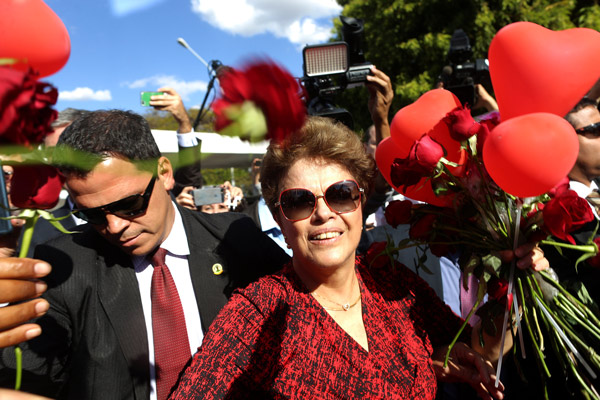 Brazil's former President Dilma Rousseff leaves the Alvorada Palace, the presidential residence, after a vote in Brazil's Senate stripped Rousseff of the presidency, in Brasilia, Brazil, Sept 6, 2016. [Photo/Agencies]
RIO DE JANEIRO - Brazil is facing a severe crisis and is moving toward a state of emergency due to suspicions of abuse of authority, former Brazilian President Dilma Rousseff said Monday.
Rousseff posted to Facebook and Twitter after the recent arrests of her former Finance Minister Guido Mantega and former Chief of Staff Antonio Palocci, within an ongoing investigation into a large corruption scheme at state oil giant Petrobras.
"The country is experiencing a severe situation. The announcement of the new phase of Operation Car Wash (the Petrobras investigation) by the Minister of Justice Alexandre de Moraes in an electoral campaign ... raises suspicions of abuse of authority and political usage of the federal police," Rousseff said.
Rousseff was referring to declarations made Sunday by Moraes, who promised "more actions" concerning the Petrobras investigation this week.
On Sept. 14, Brazil's former President Luiz Inacio Lula da Silva was accused of money laundering and corruption in connection with the Petrobras investigation.
On Sept. 22, Mantega was arrested and interrogated by police.
On Monday, Palocci, Lula's former finance minister and Rousseff's former chief of staff, was arrested for allegedly receiving bribes from Odebrecht, a big construction firm closely involved with the Petrobras corruption ring.
For Rousseff, had these arrests taken place during her mandate, "we would have been severely criticized by the press and the opposition. We are approaching a state of emergency," she said.
Rousseff, who was removed from the presidency by the Senate on Aug. 31, was impeached for breaking fiscal responsibility laws in her management of the federal budget, which was unrelated to Operation Car Wash.