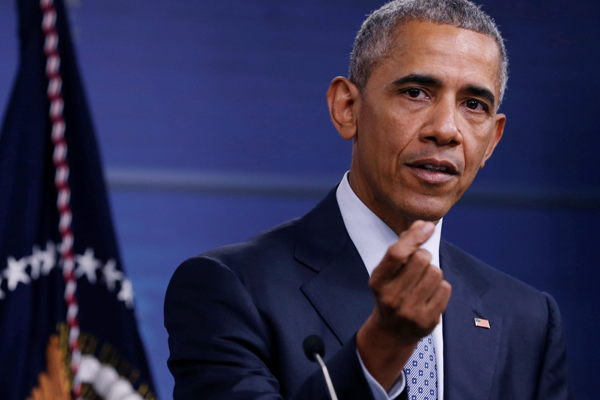 File photo shows US President Barack Obama holds a news conference at the Pentagon in Arlington, Virginia, US, August 4, 2016. [Photo/Agencies]
US President Barack Obama's 11th and final presidential visit to Asia was meant to showcase the United States' commitment to his "pivot" to the region. Something he hopes will be a big part of his political legacy.
Responding to doubts over whether, or to what extent, his successor would carry forward his pet project, Obama assured regional leaders at the East Asia Summit in Vientiane, Laos, "America's interest in the Asia-Pacific ... is not a passing fad. We are here to stay."
Of course the US will not lose interest in the Asia-Pacific. Nowhere in the rest of the world can one find comparable vitality, potential and dedication to development.
Obama deserves some credit for his political insight in masterminding Washington's "return" to the Asia-Pacific, for by emphasizing the Pacific aspect of the US' identity, he has spearheaded its forceful reengagement with the world's most vibrant region.
Given the Asia-Pacific's mammoth, and growing, weight in the world's economic balance, the next US president cannot afford to simply scrap what Obama has begun. Because as the 2009 Nobel Peace Prize winner observed, the US' future hinges here, which perhaps explains why he has clung so steadfastly to his style of pivot despite the crises in Syria and Ukraine.
With his days in office numbered, Obama cannot do much to press ahead with the pivot he has sought to engineer, which has not progressed as smoothly as he no doubt hoped. Not because the idea is flawed, but because its execution has been.
The problem is, rather than wanting to be a member of an Asian community of shared destiny, the US has returned to the Asia-Pacific flexing its muscles, and thus expecting to get its own way.
The idea of justifying the US' militaristic pivot with the tensions it has created is counterproductive. Unless it comes to help consolidate the region's peaceful environment, the US will only end up hurting its own fundamental interests, as Asian countries are preoccupied with working together for common development.
The Trans-Pacific Partnership agreement, another Obama favorite, is a case in point. Like other similar groupings, the TPP per se is not a bad thing. But it will work against the US as it has assumed the burden of exclusion.
And there's the rub, the form the US has chosen for its pivot really only serves to distance it from the region. It still wants to raise hedges around a private garden for itself while the rest of the region is seeking to create a park that all can enjoy.