Despite the worries nibbling away at Britons' spirits, good tidings have come in the form of a furry friend in service to the UK
I'm regarded by my friends and family as something of an optimist, sometimes wearyingly so.
As a result, you won't be surprised to learn that I've been desperately looking for something a little lighthearted in all the political storm clouds swirling around Britain at the moment.
Yes, I'm delighted that Andy Murray won the men's tennis title at Wimbledon. Yes, I'm pleased and impressed by Lewis Hamilton's dominance over his German rival to win the Formula 1 British Grand Prix. I'm even happy - sort of - about Wales' extraordinary progress in the Euro 2016 football competition.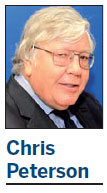 The political demise of arch-plotter Michael Gove in the Conservative Party earned a tired smile, and the contorted antics of the opposition Labour Party continues to give me a chance to gawp, but they have been overtaken by one key, ecstasy-inducing event.
Larry the cat is staying put.
Larry? A cat?
Let me explain. No 10 Downing Street is the official residence of the British prime minister, its black, glossy door with its highly polished brass plaque and white painted numerals familiar the world over. Sadly, the days of tourists and visitors getting their photographs taken on the steps are long gone due to terror threats.
It's an old building, 332 years old but much modernized. But like many old buildings, it has more than its fair share of vermin, both two- and four-legged.
So, as everyone knows, you have to bring in a cat. Because cats catch mice, right?
Enter Larry, a government employee (the staff pay for his food and lodging, which makes him a civil servant by default), whose official title is Chief Mouser.
Now, I'm no fan of cats - I am allergic to them, and they seem to have an aloof manner toward humans. No. I'm a dog fan - for 14 years a huge, shaggy golden retriever called Hopscotch dominated our family life, and I miss him still. He, quite rightly, regarded me as the head of the clan. Heady stuff.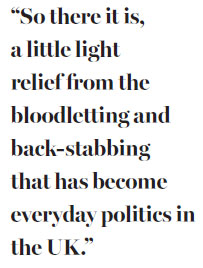 But back to Larry. He joined Downing Street when David Cameron became prime minister in 2010, ostensibly as a companion for his children but in reality as a mouse deterrent.
Word has it that he was hired from the local cat rescue center after Cameron spotted a mouse during an official dinner and hurled a piece of cutlery at it. He missed, and the way was paved for Larry's arrival.
These days he shares his duties with Freya, a female, and officials made it clear that close as Larry was to the Cameron family, he wouldn't be moving out.
He has competition for the title of Chief Mouser.
The nearby Foreign Office, built in 1868, is a brilliant example of architect George Gilbert Scott's work, but it too suffers, as many old buildings do in London, from mice. That's when Larry's rival, Palmerston (named after one of Britain's most famous 19th century politicians), entered the fray.
Former foreign secretary Philip Hammond does not take Palmerston with him when he moved to be chancellor of the exchequer, so the cat was one of the first Foreign Office inhabitants to greet Boris Johnson as he arrived to take up his new appointment.
So there it is, a little light relief from the bloodletting and back-stabbing that has become everyday politics in Britain.
Who knows, we may even win the football World Cup. Yeah, right.
The author is managing editor of China Daily European Bureau. Contact the writer at chris@mail.chinadailyuk.com
(China Daily European Weekly 07/22/2016 page11)