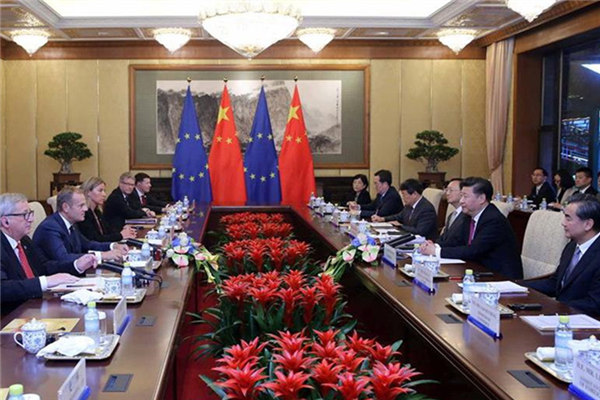 Chinese PresidentXi Jinping(2nd R, front) meets with European Council President Donald Tusk (3rd L, front) and European Commission President Jean-Claude Juncker (2nd L, front) in Beijing, capital of China, July 12, 2016. (Xinhua/Liu Weibing)
The decision by the European Commission on Wednesday to abolish its "non-market economy" list, which includes China, is a halfway house, if not a means of expediency, when it comes to trade relations with China.
By introducing a new anti-dumping methodology, the executive arm of the European Union claims that the bloc will now treat all World Trade Organization members equally in trade disputes, which may bode well for better trade relations between China and the EU.
The EU says the new "country-neutral" method is a "huge change" to the bloc's anti-dumping and anti-subsidy laws. And the move does mark progress compared with the non-binding decision of the European Parliament in May not to grant China market economy status.
Yet the EU has still failed to deliver on its WTO obligations. According to the accession protocol China signed when it joined the world trade body in 2001, the country should automatically be granted market economy status when the so-called surrogate country approach expires on Dec 11.
It is noteworthy that even as it outlined the new trade policy, the EU still vowed to work out plans to "maintain a strong trade defense system".
Thus it remains likely that the EU, still struggling with the fallout from Brexit and a slow economic recovery, will resort to more trade protection measures against China.
This expectation is not unfounded given that the EU already has a track record of resorting to protectionism against Chinese products.
China has been recognized as a market economy by about 100 countries. Whether to give it a market economy status or not will do little to compromise its role as one of the strongest proponents of globalization and free trade.
Even without being granted that status by the EU, China has been able to increase its exports to Europe by more than 11 percent a year over the past 15 years, making it the bloc's second-largest trading partner after the United States.
The EU should realize that protectionist measures to make Chinese imports more costly are not the solution to its woes. Its problems stem from the declining competitiveness of its enterprises and its need for economic structural adjustments.
Trade serves mutual benefits, and market economy status is not a favor given to China. The EU should bear that in mind when handling trade relations with China.