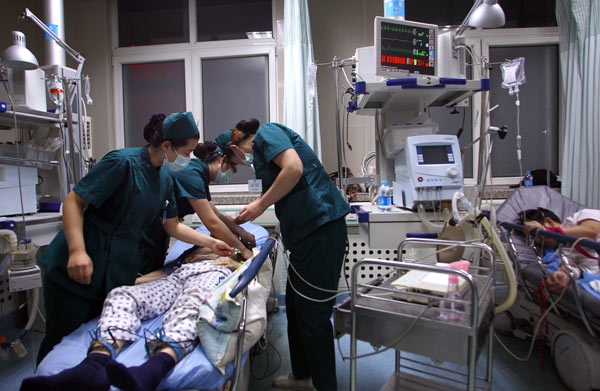 A patient undergoes treatment in the emergency room of the Armed Police General Hospital in Beijing in May, 2012. Zou Hong/China Daily
Some so-called bed renters reportedly hire out camp beds to patients who fail to get a bed in the emergency room in Beijing Tiantan Hospital, a leading general hospital in the capital. Scol.com.cn commented on Wednesday:
Although an emergency room bed when available can be hired for 500 yuan ($75) for half a day, many patients at Tiantan Hospital still resort to random "bed renters" for a place to lie down and rest, due to the low cost and the lack of sickbeds in the emergency room. The hospital has only 51 for emergency use: The camp beds are hired out for only 22 yuan per day.
The bed "rental market" has been so popular in the hospital that even the hallways are full of foldaway beds.
Such a situation mirrors the fact that the ongoing medical reform is yet to alleviate patients' obsession with emergency rooms. Some hospitals say they limit the number of sickbeds in their emergency rooms to improve the medical environment. They say they cannot ban the rental beds either as there are always patients who need them. However, such an explanation does not hold water. Allowing patients to freely rent temporary beds makes the emergency rooms even more crowded, hindering their efficiency and exposing patients and staff to the risk of accidents and infection.
Those managing hospitals should shoulder their due responsibilities by making room for more affordable sickbeds. This should be feasible and achievable, unless they lack the incentive to do so-some of the medical staff have reportedly been found to be involved in the bed-renting racket.
To eliminate such supervisory loopholes and press ahead with the nationwide medical reform, more efforts have to be put into improving hospital services and the management of hospitals.