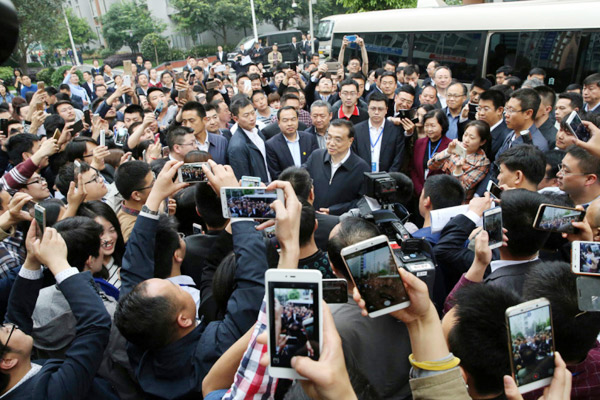 People take photos of Premier Li as he visits Jingrong makers town in Pixian county, Chengdu city, Southwest China's Sichuan province, April 25, 2016. [Photo/www.gov.cn]
Premier Li Keqiang visited a town in Chengdu, capital of Southwest China's Sichuan province, on Monday, during which he played badminton with a robot. Yang Feng, an associate professor on automation from Northwestern Polytechnical University, commented:
In order to play badminton, a droid needs high-accuracy vision and image processing, as well as precise motion control. It has to recognize the shuttlecock in flight and calculate its trajectory and then anticipate where it can hit the shuttlecock.
In this process, the most important technology is high-accuracy vision, because the robot needs it to recognize the shuttlecock and make its move.
Such high-accuracy vision technology is not as new as some reports claim. High-accuracy vision means the droid takes photos with two cameras installed in its eyes, and finds the object's exact location by comparing their pictures. By doing so it tries to imitate human vision.
That technology dates back to the 1980s and so is quite mature. Now it is widely used in robot navigation, 3-dimensional measuring, as well as Virtual Reality, which has suddenly gained popularity.
In industrial automation, the technology can measure as accurately as 0.1 millimeter, and it is necessary for self-driving cars.
Early in 2011, Zhejiang University developed Wu and Kong, two special sporting droids, which could play table tennis with each other and with human players. In that sport, the robots need to recognize the ball more precisely than in playing badminton. Instead of a technological breakthrough, the droid that plays badminton in Chengdu can be better called a good, practical model that uses these technologies.