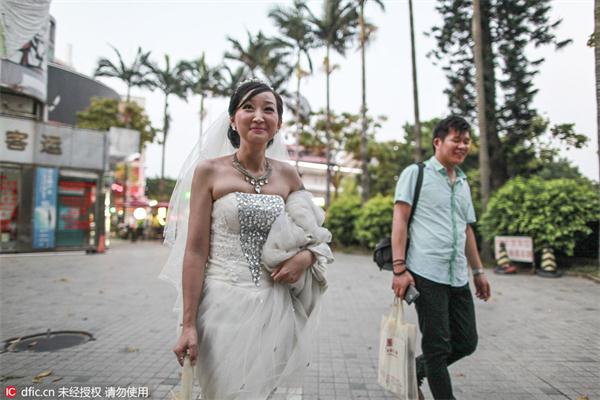 Xiao Delan, the former wife of a gay man, plays a bride to raise social awareness of the wives of gay men during an activity in Wuhan, capital city of Hubei province, July 2, 2014. [Photo/IC]
"At least 14 million straight women in China are currently, or have been, trapped in false marriages with men who are gay," Zhang Beichuan, a retired professor with the Medical School of Qingdao University, and a pioneering researcher on LGBT (lesbians, gays, bisexuals, transgender) issues, tells China Daily Website.
The phenomenon of Tongqi (wives of male homosexuals) has been in the shadows for decades due to Chinese traditional cultural customs, which strongly pressure adults to get married at certain ages, Zhang said. However, in the past two years, this special group has been under the spotlight and stirred public debate extensively as more victims stand out to vent their plights.
"Tongqi's cries of marriage misery represent the development of society and women's conscience of equal rights; it also reaches the physical and mental limit wives married to gay men can tolerate," Zhang said.
Many women were deceived into such bitter relationships by their gay partners as the later just need such marriages of convenience as a buffer between themselves and family and social pressure. Fei Yan (pseudonym), a 41-year-old white-collar woman living in Changsha, Central China's Hunan province, said her unwitting marriage to a gay man led to a lifetime of woes.
"Before he confessed to me, I had no idea what happened between us," Fei said.
The couple had two children - the elder is now 10 – and husband and wife have decent jobs. It seems a happy, middle-class family.
"However, when we're alone, he's not willing to get close to me or touch me. I thought I had done something wrong. That has been a huge blow to me in the past decade," Fei said.
According to Zhang's investigation, about 80 percent of the estimated 20 million homosexual men in China are currently or have been in a fake marriage.
"It's seriously immoral to intentionally and rashly deceive an innocent woman into a sham marriage," the professor said.
As a moderator of a tongqi group on QQ, an instant chat platform, Ru Meng (pseudonym) found two reasons behind this phenomenon after two-years of research about such marriages. First, homosexuality still carries a strong stigma in China. So the marriage is used as a shield to protect homosexual men. Second, under the pressure of filial ethics, gay people tend to find wives to have children to inherit the family's fortune.
An online report, Plight of the Chinese Tongqi, stirred outrage and sympathy towards the gay people and their wives.
"However, it's hard for those wives to walk out the cursed binding," Ru Meng said.
Many women choose to quit their jobs and become full-time housewives after marriage, making them financially dependent on their spouse. Once the wife realizes the truth, she may decide to keep silent and maintain the sham marriage to give their children a stable family.
"I did not want my children to grow up without a father. But I did not want them to grow up in a dysfunctional family either," Fei said. Some do find the courage to divorce their husbands, but divorce is still considered as a shameful issue, according ingrained custom.
"The law in China does little to assist those women who are at a disadvantage when they try to plead for compensation during divorce proceedings." Professor Zhang said.
"A lack of sex education in Chinese schools has contributed to the tragedy of tongqi and the hostile social attitudes towards gays," Zhang said. Gay people usually feel ashamed to admit their sexual orientation and thus they choose to keep silent so they won't be viewed as a "monster".
"Same-sex relationships should be tolerated and respected by more people. And the stereotype about same-sex marriage may also be diminished, thus the tongqi tragedy could be terminated," Zhang said.