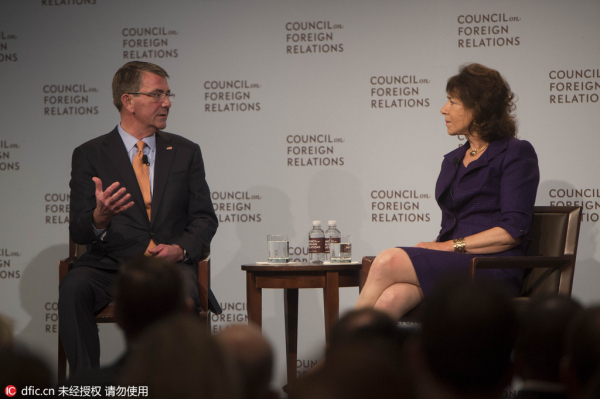 NEW YORK (April 8, 2016) Secretary of Defense Ash Carter addresses the Council on Foreign Relations on partnerships in the Pacific.[Photo/IC]
Due to his "work schedule", US Defense Secretary Ash Carter has excluded China from his Asia trip, which started on Sunday.
Carter had planned to include China into his Asia tour after he accepted Beijing's invitation at the end of last year. So his visits to India and the Philippines as scheduled make his "work schedule" look like an excuse.
Such discourtesy not only reveals the United States' strategic intention toward China, especially on the South China Sea issue, it also makes public the differences between the two countries' militaries and is thus unfavorable to bilateral crisis management and the region at large.
If Carter had visited China as scheduled, he would have at least demonstrated to the outside world that the US does not take sides on the South China Sea issue as it previously claimed. By removing China from his Asia tour, it seems that Carter and the Pentagon no longer want to send such a message.
Such a gesture can be interpreted as the US standing on Manila's side and as a possible attempt to rally other Asia-Pacific countries to confront China.
As a matter of fact, both the Pentagon and the command of the US Pacific Fleet have presented an increasingly tough stance toward China, and the US military has continuously taken provocative actions under the banner of "freedom of navigation". Beijing has even been accused of "militarization" of the South China Sea for these US actions.
Carter's exclusion of China from his Asia trip shows the South China Sea issue is seen by Washington as an important chance to promote the establishment of a military alliance system against China in the Asia-Pacific.
The Pentagon's Asian move will at least have a negative influence on communications between the two militaries.--IFENG.COM