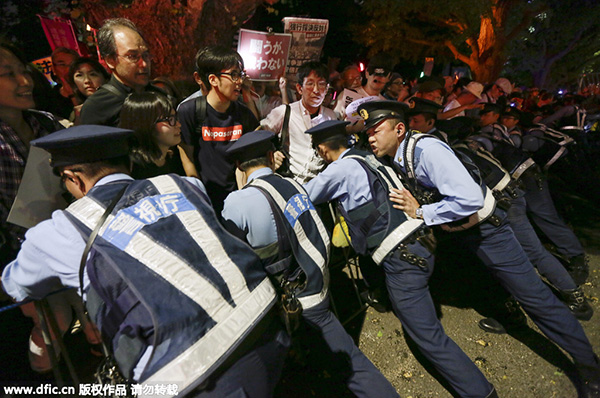 Japanese policemen contain protesters as they demonstrate against Japan's controversial national security bills in front of Japan's parliament building in Tokyo, Japan, Sept 14, 2015. [Photo/IC]
Japan's postwar military and security policies entered a new era as its controversial new national security laws, which lift the constitutional constraints on collective self-defense, formally took effect on Tuesday.
From the perspectives of legal principles and legislative procedures, these new laws are in essence "illegal laws", given that they are in contradiction of the country's pacifist Constitution. These laws concocted and passed with the sponsorship of Prime Minister Shinzo Abe will ruin Japan's image as a peaceful nation ruled by law.
The new laws allow Japan to defend other nations with which it has close relations under the so-called right to collective self-defense even if Japan itself is not under attack.
This is a dangerous development not only for Japan but also for its neighbors.
To robustly promote these laws, Abe aims to bypass constitutional obstacles to speed up Japan's "normalization". With such moves, Abe is also aiming at militarily binding Japan more tightly to the United States so as to strengthen Japan's capability to contain an imaginary enemy.
Japan had actually taken some targeted moves at containment in the region before these new security laws were put into force, as indicated by Japan providing the Philippines and Vietnam with patrol vessels and reconnaissance planes, and its relentless efforts to secure alliances with India and Australia, and its announced willingness to intervene in the South China Sea issue.
Also on Tuesday, Japan's Diet voted for the largest-ever military budget for the 2016 fiscal year, a day after Yonaguni Island, only 150 kilometers from China's Diaoyu Islands, came into service as a "reconnaissance base".
Due to its economic strength and military potential, any Japanese military moves exacerbate the already complicated regional uncertainties. Countries in the region should be on high alert against Japan, which is once again posing a threat to neighboring countries, and be well prepared for Abe's unconcealed intentions.