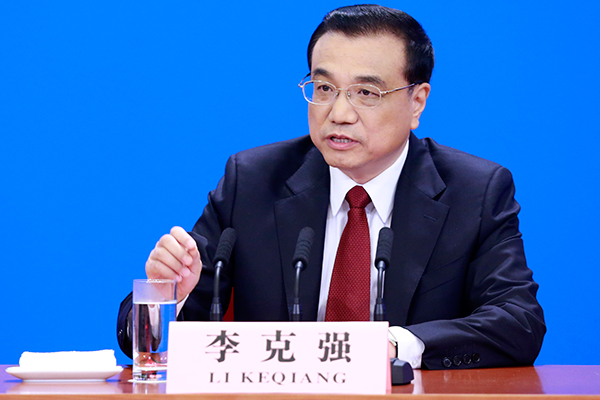 Chinese Premier Li Keqiang speaks at a press conference at the Great Hall of the People in Beijing, capital of China, March 16, 2016. [Photo/China Daily by Feng Yongbin]
At the news conference that concluded the annual sessions of the National People's Congress and the Chinese People's Political Consultative Conference National Committee on Wednesday, Premier Li Keqiang said that overcapacity will be cut but that will not be done at the cost of workers being without jobs. Beijing Youth Daily commented on Thursday:
There are two ways of cutting overcapacity, namely shutting down some enterprises that consume resources and cutting down the inefficient parts of certain industries. Both of them mean mass layoffs of workers, this is especially true for the coal and steel industries.
But there is hope that the workers made redundant will be able to find new jobs, if resources are transferred to new, emerging industries, which are more efficient and provide jobs for those laid off from the old industries. In this way there will be less opposition to the government's efforts to cut overcapacity.
The key lies in making the new industries more efficient through reforms. Many people equate new industries with Internet industries, which is only partly the case. Many traditional industries have new parts, too, and we must try tapping their full potential and boosting their development.
For example, we still need traditional manufacturing, but can improve the industries so that the products better meet people's demands: New also means suiting changing situations.
The government needs to properly draft policies, so as to better guide enterprises to adapt to the changing times. That requires the government to adopt new thinking and view itself as the service provider, instead of a boss.
For too long, the market has not been able to play the determining role in the allocation of resources. As China faces the pressure of economic transition, it is time for the government and enterprises to better understand their relationship with each other, and work together to regulate the market order. Only in this way will China successfully develop new industries and provide ample jobs for residents.