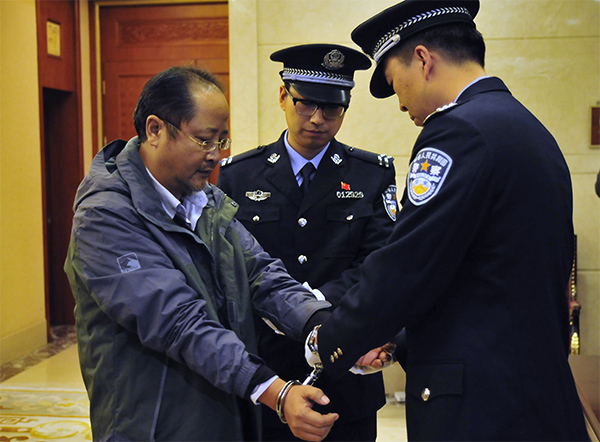 Police escorts Pei Jianqiang who was brought home from the Republic of Guinea at Beijing Capital International Airport, Jan 1, 2016. [Photo/Xinhua]
At an anti-graft inspection meeting on Tuesday, China's central discipline inspection authority announced that it will launch a new round of anti-corruption inspections in 32 entities as well as in four provinces that had been already inspected.
The return of investigators to Liaoning, Shandong, Hunan and Anhui provinces, which had previously been inspected, aims to ensure the effect of inspection lasts. Each of the provinces saw officials lose their positions after the inspectors found problems.
The General Administration of Customs, the State Administration for Industry and Commerce, the State Administration of Press, Publication, Radio, Film and Television and the China Food and Drug Administration are among 32 central government agencies to be inspected starting from this month.
President Xi Jinping has pointed out several times that the discipline inspection authority should reexamine places and departments already inspected. The reexaminations can consolidate the achievements of anti-corruption campaign and act as deterrent to corruption. Meanwhile, the new round of anti-graft inspections may find new problems and improve the overall work of anti-corruption campaign.