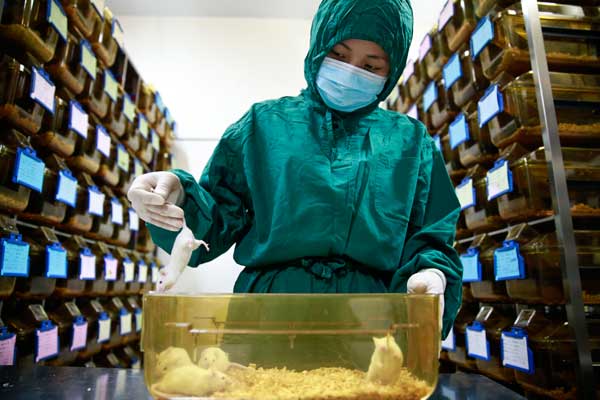 A researcher checks the conditions of rats used for laboratory tests at the National Institute of Biological Sciences in Beijing. [Photos by Feng Yongbin/ China Daily and Liu Dawei/ Xinhua]
A private company in Southwest China's Guangxi Zhuang autonomous region has reportedly received more than 10 million yuan ($1.5 million) in funds for research over the last decade, yet made little progress in its so-called projects. China Youth Daily on Wednesday urged greater scrutiny of how scientific research funds are used:
It is appalling that some local authorities have turned a blind eye to the wasting of scientific research funds, much of which has gone directly into the pockets of "project directors". Thanks to the glamorous projects they led, many researchers have even been promoted without making any research contributions.
China's financial support to scientific research has been on a steady rise in recent years, as over 1 trillion yuan has been spent on research and experimental development in 2014 alone. However, the distribution of governmental funds has been rather porous, allowing greedy officials and rent-seeking companies to easily grab much of the money in the power-money exchanges.
On the one hand, high-tech companies that don't have connections with local science and technology officials are often granted limited access to big projects. On the other, those succeeding in applying for such projects are usually under loose supervision, with regard to whether they have started the research and the authenticity of their scientific findings.
Measures must be taken to break the intertwined chains of interests and put the research funds in the right hands. Governments at all levels, for starters, should be banned from directly managing scientific projects and professionals be entrusted with the tasks of ensuring the necessary rules are followed, supervising the research, evaluating the research results, and holding anyone who acts up accountable.
Besides, applications for research programs and the actual findings are supposed to be disclosed for public scrutiny. That may significantly exclude those of little scientific value from being funded in the first place.
The public should also be involved in the evaluation of scientific findings as well.
In other words, not only professional agencies but also citizen representatives should be allowed to assess what a project has achieved.
As for the potential corruption and abuse of funds, all departments concerned have to punish rent-seekers and corrupt officials based on thorough investigations.