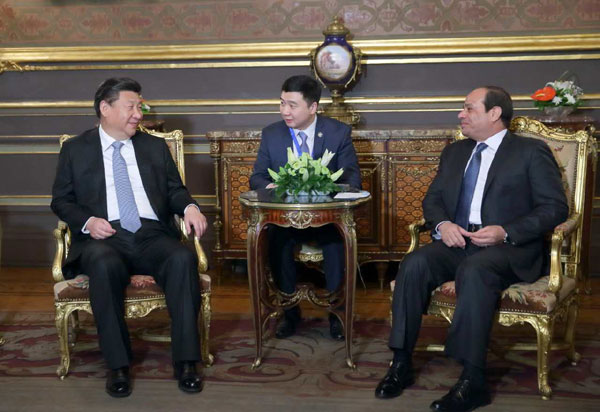 Chinese President Xi Jinping (L) meets with Egyptian President Abdel Fattah al-Sisi (R) in Cairo, Egypt, Jan 20, 2016. [Photo/Xinhua]
The new era of win-win cooperation heralded by President Xi Jinping's visit to three countries in the region presents the crisis-ridden Middle East with a golden opportunity to blaze a new trail out of its chronic turmoil.
While the region has been blessed with a geopolitically important location, unparalleled reserves of oil, and enormous cultural and religious diversity, these blessings have largely failed to translate into real benefits for the people. Instead, they have been more like a curse trapping the region in insecurity and unrest.
As numerous observers both inside and outside the region have eloquently expounded, Western intervention gilded with such lofty slogans as democracy and human rights but adulterated with selfish agendas, has been a prime cause of this.
More than five years after the self-immolation of a young Tunisian vendor triggered the chain reaction of the "Arab Spring", Western intervention has brought the region nothing but social turmoil, international conflicts, unprecedented refugee flows, bloody sectarian clashes and rampant terrorism.
What has become an "Arab Winter", rather than spring, stems from the West's attempts to manipulate local grassroots grievances for its own purposes.
However, it has become increasingly clear that the mess the West's meddling hands have created in the Middle East is further and further out of those hands, and the West's "leadership" in the region has waned.
In order to escape the current quagmire, the Middle East does need help from the outside world. But Western-style intervention is not a viable option; it is more a poison than a magic potion.
Instead, truly helpful partners will put the emphasis on economic development and the living conditions of the people, as these two factors lie at the root of most of the troubles besetting the region, including terrorism.
The international community should follow China's example and commit to constructive engagement in Middle East affairs on the basis of respecting state sovereignty and national realities, promoting inclusive dialogue and reconciliation, and pursuing mutually beneficial cooperation.