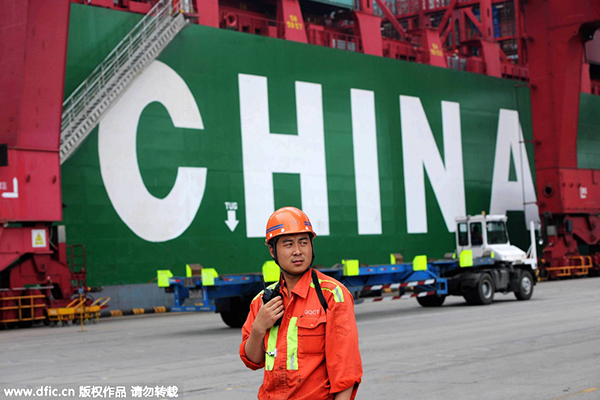 A stevedore works at Qingdao port in Shandong province, July 1, 2015. [Photo/IC]
Since it is now the second-largest economy in the world, China accepts that it should pay a bigger UN membership fee and bear a greater share of the international body's peacekeeping costs.
With China's membership fee due to increase to 7.29 percent of the UN budget in the coming three years, Wang Min, China's deputy permanent representative to the world body, said that as long as the membership fee has been calculated in a just, impartial and reasonable manner, China will shoulder its responsibilities as a permanent member of the UN Security Council.
After the new adjustment, China will rank third, after the United States and Japan, in terms of its membership fee, while its share of peacekeeping costs, 10.2 percent, will be the second-largest after the US.
Although China still has to tackle abject poverty that makes life difficult for millions of people, it has never delayed paying its UN membership fee or its contribution to UN peacekeeping missions, as it fully understands the importance of funding if the world body's mission is to be successful.
As the most representative and authoritative world body, the UN has a crucial role in safeguarding world peace and promoting common development.
Seventy years after the UN was founded, the world faces many pressing challenges, ranging from climate change to terrorism, and China is willing to see the world body play a bigger role in uniting countries to better address these.
With China greatly increasing its financial input into the UN based on its economic status, it is only natural that China should have a greater say in the UN affairs and global governance.
As the largest developing country, China's rising clout in the UN will enable it to better safeguard the rights and interests of the developing countries in the international arena and contribute more to world peace and development.