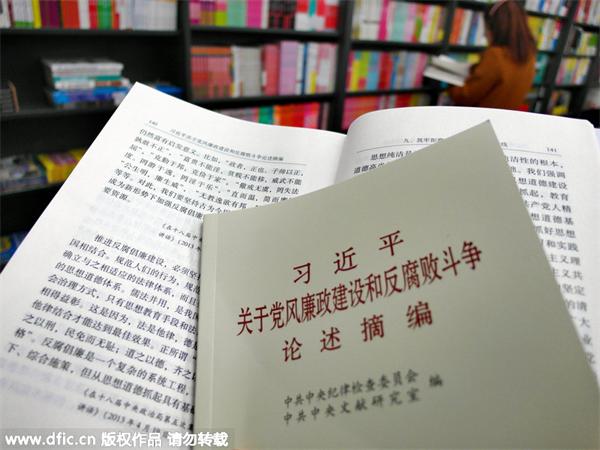 A book about Chinese president Xi Jinping's remarks on anti-corruption.[Photo/IC]
To have, or not to have, a wedding banquet for daughters and sons, that is indeed the question for Party officials now. At least, how big such a banquet should be is a concern leaders at various levels must meticulously weigh before deciding to hold one.
Party secretary and president of the Central Conservatory of Music Wang Cizhao was dismissed a week ago for holding a banquet for his daughter's wedding, and several of his colleagues received Party disciplinary punishments for attending the event. Wang is said to have violated Party discipline by organizing the banquet.
Besides, a village Party secretary, who quit his post in order to hold a banquet for his daughter's wedding, received Party disciplinary penalty for inviting hundreds of villagers to the event and receiving money as gift from them.
That it has become risky for Party officials, especially those occupying high posts, to hold wedding banquets for their children indicates the Party leadership meant business when it emphasized the ruling Party would be governed much more strictly.
Since there have been cases of some Party officials, especially those occupying high posts, holding wedding receptions for their daughters or sons to extort money from their subordinates, the crackdown could be aimed at eradicating the corrupt practice. Some Party officials have indeed used such special occasions to take bribes, and their subordinates to "lubricate" their way to higher posts or get things done for personal gains.
In fact, wedding banquets can "legitimize" the exchange of money for power just as mahjong does; businesspeople and/or subordinates deliberately lose money to higher officials while playing mahjong in exchange for the favors they need.