Govt, business and academic leaders discuss how institution will operate
The Asian Infrastructure Investment Bank will set up an ethics integrity department and encourage whistleblowers to ensure there is no corruption, according to Jin Liqun, its president-designate.
He told a conference in London organized by the Boao Forum for Asia Financial Cooperation Conference that corruption would not be tolerated in the bank, which will launch its first projects in the second quarter of next year. These projects will focus on electricity, transport and water supply, because these are in high demand, Jin said.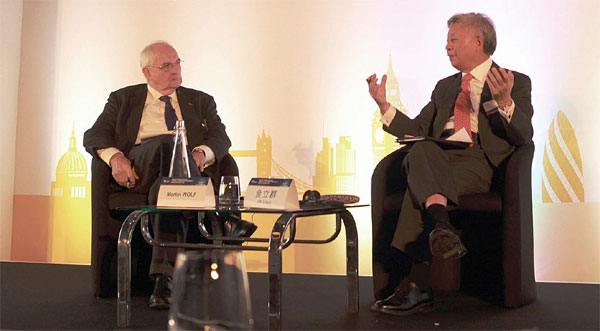 Jin Liqun (right), president-designate of the AIIB, at an event on Nov 9 in London organized by the Boao Forum for Asia Financial Cooperation Conference. Karen Kwok / For China Daily
The bank, proposed by China two years ago, is due to officially open in the next few weeks.
The conference in London, on Nov 9 and 10, brought together more than 400 government, business and academic leaders from 22 Asian and European countries.
The issues they looked at included structural reform for Asia-Europe financial collaboration, global financial governance, diversification of the international monetary system and opportunities from the Belt and Road Initiative and Asia-Europe financial collaboration.
The bank would run as a "lean, clean and green" multilateral lender, Jin said.
"We will set up an ethics integrity department to inspect corruption," he told China Daily, adding that it was critical that the department's leader be of unblemished character.
"To avoid conflict of interest, a Chinese cannot be the leader of the integrity department when the bank president is Chinese. That does not mean Chinese officials are not good enough to hold this position, but we need to avoid skepticism."
The president would be unable to dismiss the integrity department head without good reason, he says. This would act as a check on the president's power and ensure he or she is as accountable as anyone else.
Employees will be encouraged to report corrupt behavior, he said, and firm measures would be taken against any guilty party.
Jin, a former Chinese vice-finance minister and veteran of development banks such as the Asian Development Bank and the World Bank, was named the inaugural president in August.
The institution will be built into a new type of development bank with first-class standards, Jin says. However, he says that "the best international standard" does not mean Western standards.
"We are working on establishing this bank and our standards, which must draw on the experience of both developed and developing countries, especially China."
The bank will look to multilateral development institutions and avoid their shortcomings, Jin says.
"We do not have a permanent board of directors, and the board's duties are clearly separated from those of other management departments. This is what several multilateral financial institutions would like, but they find it difficult to change because of structures that have been in place for many years. Also, because we won't have local offices, we will be able to keep a lid on costs."
The bank will have universal recruitment and universal procurement, Jin says, adding it will appoint management no matter "whether they are from the founding member states" or "which countries' passports they hold".
The bank will work with more than just governments and governmental bodies, he says.
"We are willing to work with anybody, on the condition that these companies ... have a very good reputation."
He cited tobacco companies as the kind of commercial operation that the bank would not work with.
Britain attracted global attention in March by announcing that it would join the bank as a founding member, and many other countries followed suit.
Jin says he was "delighted the UK made the first move" and he praising the "vision" of its decision. A prosperous Asia would benefit other countries, he says.
In the United States and Japan, Britain's announcement was met with dismay, and the two have declined to join so far.
Jin said at the conference that he understands the concerns of some countries and that "the door stays open for any country to join, as long as they accept the articles of agreement worked out by the 57 founding members".
Taiwan's decision to join the bank was "a domestic affair", he said, adding that "family members" can discuss it, and it needs no intervention from others.
Jin said that 10 minutes before the deadline for applications to join the bank at midnight on March 31, they were still coming in. More than 30 countries that missed the deadline are on a waiting list to join.
Some member countries, which Jin referred to as "sleeping beauties", have yet to ratify the articles of the AIIB agreement, and this is unlikely to be done before the end of next year.
"But this won't affect the bank's target to become operational by the end of this year."
The bank can "invest in any country," he said, giving as an example the funding of irrigation projects in Australia that could improve food security for Asia.
Lending to countries such as Egypt, the first African state to join the bank, "shouldn't be any problem", he said.
Contact the writers throughzhangchunyan@chinadaily.com.cn