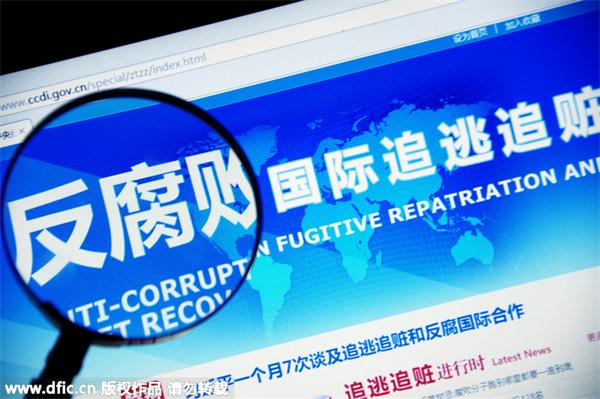 The Central Commission for Discipline Inspection (CCDI) of the Communist Party of China (CPC) opens a website to allow people to tip off the CCDI to corruption and other disciplinary violations. [Photo/IC]
Wang Guochang, former deputy director-general of the environmental protection department of Southeast China's Fujian province, who was sentenced to 10 years imprisonment for accepting bribes, has reportedly sought to copy someone else's letter of repentance while in prison. Xinkuaibao newspaper condemns Wang's absurd request, saying it shows he has no real regrets about the crimes he committed.
It is necessary for all convicted corrupt officials to write letters of remorse about their wrongdoings. Some local governments even use such "confessions" to warn and educate other officials. And to some extent, such letters are of greater importance than other statements of remorse made by the former officials prior to their imprisonment, because they are not only about their future but also about whether their reeducation can be achieved as expected.
That the former Fujian official repeatedly requested other officials' penitential letters to copy is, in fact, a speculative attempt to show repentance for his wrongdoings in order to get his sentence reduced. Such repentance will boil down to his "unregulated outlook" and "not being firm in his faith", clichés that many of his kind use for the purpose of showing they are sorry for the crimes they committed.
His request for an example for such a letter of self-reflection, which has no particular format or criteria, suggests that he has no genuine regrets at all. Such a makeshift statement should not be allowed to affect the final court's decision on whether his length of prison imprisonment should be reduced.
Some convicted corrupt elements' lack of sincerity in putting enough thought into such statements also reveals that they may have never cherished a sincere heart to serve the people since the day they were promoted to a ranking position.
Of course, it is also possible that the corrupt official does have difficulties writing a proper letter of contrition, and his previous long speeches and reports were either written for him or copied directly from the Internet. But one thing is clear, he will not really mean what he says in his letter of remorse, if there is one.