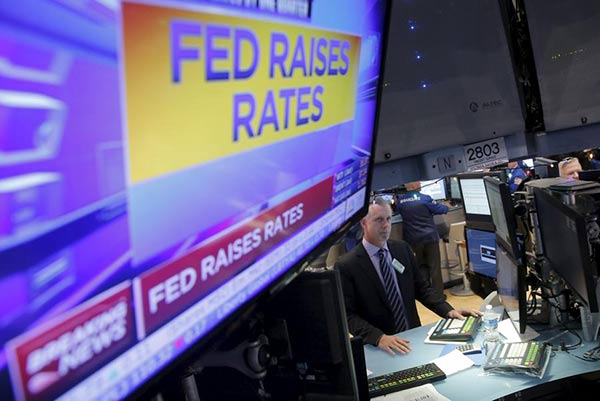 Traders work on the floor of the New York Stock Exchange (NYSE) shortly after the announcement that the US Federal Reserve had hiked interest rates for the first time in nearly a decade in New York, Dec 16, 2015. [Photo/Agencies]
The much-anticipated hike in interest rates announced by the US Federal Reserve on Wednesday represents a belated beginning to the end of super cheap credit.
Given the failures by other central banks to secure sustained growth while getting rid of the life-support system of easy credit, it is far too early to tell if the United States' end to its unprecedented massive monetary experiment to fight the worst global financial and economic crisis in many decades will mark a turning point for a successful exit from abnormally low borrowing costs.
Yet recent signs of the US economy recovering from the global financial crisis justify the Fed's decision to raise its benchmark interest rates by 0.25 percentage points after cutting them next to zero since December 2008. With its consumer spending growth holding firm and unemployment standing at 5 percent, the US economy is ostensibly better positioned than most other countries to withstand the withdrawal symptoms of ending its addiction to easy credit.
However, globally speaking, the hike in US interest rates will likely be a source of uncertainty as widely adopted loose monetary policies in many countries have been running out of steam and have failed to stop the world economy from falling back to the lowest level of growth since 2009.
Slowing global trade growth, depressed commodity prices and falling international investment have resulted in very sluggish growth for developing and transition economies this year. And there are concerns that the rise will aggravate this, as higher rates in the US could strengthen the dollar and kick-start more capital outflows from many developing economies in coming years.
But accommodative monetary policy stances worldwide have largely worked their magic in avoiding the worst-case scenario, so it makes no sense to continue relying on more such monetary policies instead of fixing the deep-rooted structural problems in different economies.
Therefore, though the ability of the US economy to withstand higher US interest rates and its impact on global growth remains questionable, the US Fed should not indicate any willingness to backpedal on the upward move of interest rates.
Otherwise, the current hike may end up as a false start to normalize borrowing costs.