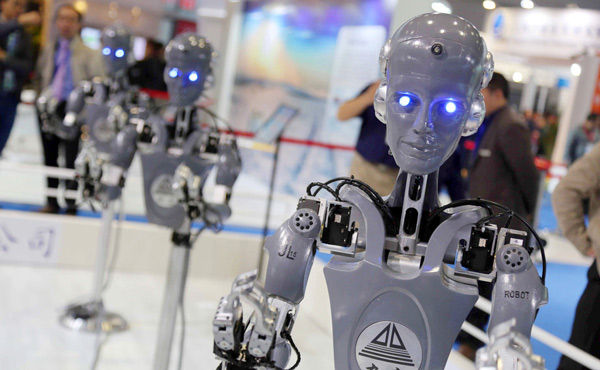 Robots manufactured by Shaanxi Jiuli Robot Manufacturing Co Ltd are on display during the 17th China International Industry Fair in Shanghai, China, Nov 3, 2015. [Photo/IC]
In the context of China's accelerated efforts to promote an innovation-driven development strategy, the three-day World Robot Conference 2015, which opened in Beijing on Monday, is expected to boost the popularization of this fledgling but booming sector in various fields.
At a time when there are increased pressures on the economy from the global economic downturn and when traditional industries are demonstrating weakening potential as drivers of economic growth, the development of high-tech industries, including the robot sector, can inject new vitality into the global economy if fully tapped and well utilized.
As an emerging country that has established a broad and relatively developed industrial system, China's robots and intelligent manufacturing are regarded as a key part of its national innovation strategy. The road map and schedule for promoting the upgrading of its manufacturing undoubtedly offer a great opportunity for the expansion of the robot sector in the world's most populous nation.
However, China still lags behind developed countries in this industry. Although it passed Japan to become the world's largest industrial robot market in 2013 and about a quarter of world's industrial robots were sold in China in 2014, the market share of domestic robots and their brand reputation is still relatively weak.
So ongoing preferential national policy support should be used as an opportunity for increased fiscal and research inputs into the development of high-end robots rather than merely expanding the size of the domestic industry.
The huge overproduction of the photovoltaic industry nationwide in the years of policy support from local governments should offer a salutary lesson for the country so it refrains from launching robot projects not based on practical needs. This will ensure the sustainable development of the industry.